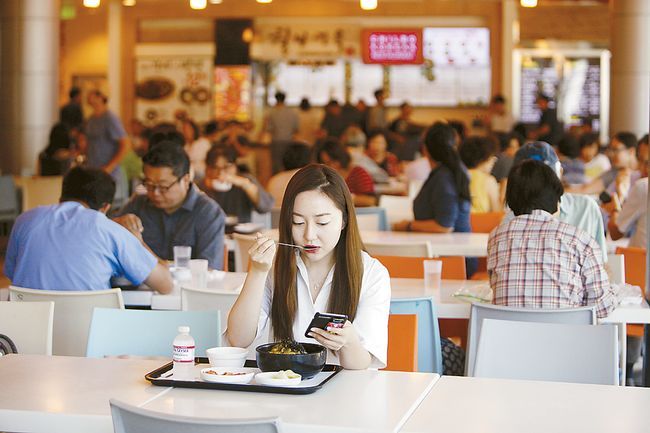 Maybe it is a new lifestyle for the younger generation? Is it a byproduct of those who struggle with their sociability? The trending lifestyle among young people nowadays was created from those who are simply too tired to network with others for the sake of networking.
The debate on whether or not eating alone is beneficial still remains fierce. However, a recent study conducted in Holland revealed that it is not eating alone that poses a risk anyone. The real risk lies in the danger of people who accumulate stress when eating with others.
"People who are easily stressed during meals tend to have high blood sugar level," the research read. "It is extremely difficult them to be satisfied after a meal in that case. That could eventually trigger physical and emotional effects."
In essence, today's young people consider eating with others as a stressful experience. The trend of more people eating on their own also means that the world now values individual privacy over interacting with others.
A 23-year-old man who works in Los Angeles Koreatown, only identified by his last name Kim, genuinely enjoys eating alone.
"Lunchtime is the only period of my day in which I can actually rest," Kim said. "It's difficult to spend that time with others. I'm not sure what value is there in involving myself in small talk with others. I'd rather just think for myself and read during lunchtime."
The trend is not just limited to Koreans. Compared to 1960s, the number of Americans who often eat on their own have tripled by the 90s. In 2015, an average American spent half of their total mealtime throughout the day on his or her own as 60 percent of those who took part in the survey said that they eat alone regularly.
Lunchtime has long been considered as a time to interact and network in the U.S., but 45 percent said they have lunch by themselves, while 65 percent said they either eat on their own or not have lunch at all.
The motivation behind this trend could be explained by the rising demand for younger people to secure more time for themselves.
"Once you reach your 40s or 50s, there comes a time when you're just tired of building relationships at workplaces and even at home," said 48-year-old Choi, who even drinks on his own at least once or twice a week. "I don't often have time to reflect on my own as I'm busy dealing with other people. When I eat or drink on my own, I can actually take the time for myself."
However, experts said that eating alone can result in some serious health consequences. A study conducted by Yonsei University last year revealed that those who eat on their own are 2.4 times more likely to feel depressed than those who eat with family and friends. The likelihood of feeling depressed increases significantly if eating by oneself is forced rather than voluntary.
"The world may have changed, but it's still better to eat with someone else," said 55-year-old Kim. "Eating alone is not really a meal. It's merely a way to satisfy hunger. At least that's how I feel when I eat by myself, but it's also true that I sometimes act like I'm listening to other people speak and pretend like I agree with them when I have to eat with someone else."
Family counselors advised that even those who eat on their own should spend at least 20 minutes in one sitting for a meal. They also said that it is better to avoid watching TV, smartphone or tablets while eating.
By Jiyoon Kim