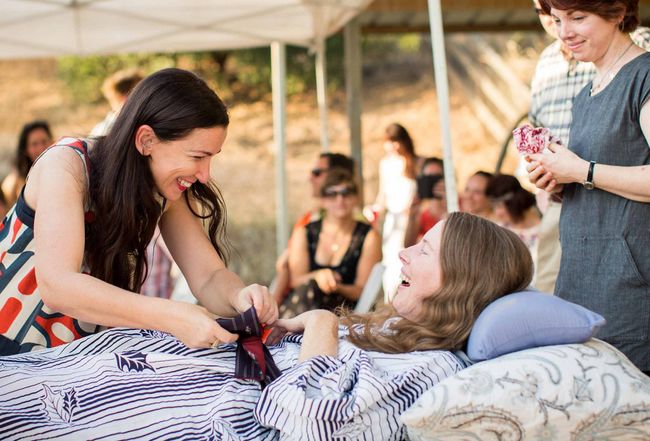 Sitting cozily alongside her closest family and friends, 41-year-old artist Betsy Davis screened her favorite movie, "The Dance of Reality," in her room. The group also enjoyed cocktails, pizza and music played by friends who brought their instruments.
The party in Ojai, Calif. with more than 30 people went on until the evening of Saturday, July 23. At around 6:45 p.m., Davis kissed her beloved friends and family, who flew in from New York, Chicago and cities across California for the party, goodbye and was wheeled out to a canopy bed on a hillside. It was there where she took a combination of doctor-prescribed morphine, pentobarbital and chloral hydrate.
Soon enough, Davis had ended her life. After having been ill with ALS, or Lou Gehrig's disease, since 2013, she became one of the first Californian to take a lethal dose of drugs under the state's new doctor-assisted suicide law for the terminally ill.
Weeks before holding the two-day, going-away party, Davis had already sent an invitation to her closest family and friends, letting them know of her decision to end her own life. Her party invitation read, "There are no rules. Wear what you want, speak your mind, dance, hop, chant, sing, pray, but do not cry in front of me. OK, one rule."
For months before the party, David planned out how she wanted to "celebrate" the end of our life. By then, the painter and performance artist had already concluded that she has had enough with losing control of her own body. She wasn't able to scratch an itch on her own let alone stand. Her mobility depended entirely on an electric wheelchair.
Kelly Davis, her younger sister, later wrote about the sending-off party in Voice of San Diego that Davis wanted her death to be treated as a "celebration" of a "rebirth."
"Obviously it was hard for me," Kelly Davis wrote. "It's still hard for me. But people got it. They understood how much she was suffering and that she was fine with her decision. They respected that. They knew she wanted it to be a joyous occasion."
California law to legalize doctor-assisted suicide only went into effect in June despite its opponents arguing that a voluntary death is morally wrong as it poses the danger of ill patients being coerced to die.
As of now, only four states allow such a law. Oregon was the first to legalize it in 1997.
"After following my sister through the process, I almost want to say the law's requirements are overly cautious," said Kelly Davis. "Yet I understand why that caution's necessary … And if someone wants to fight to the very end, that's a personal choice. Both paths are equally brave."
By Hyoung jae Kim