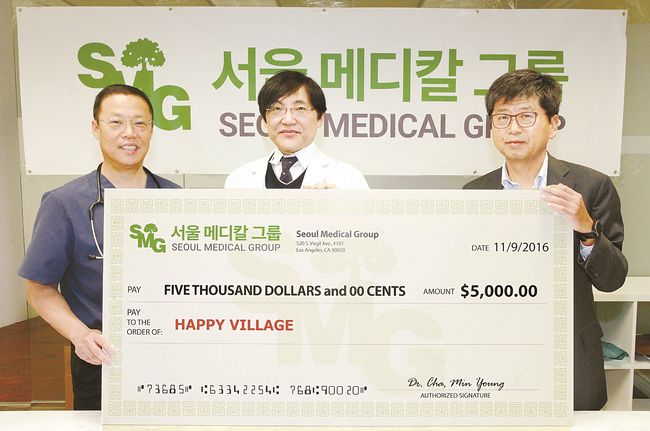 An effort to provide medical support for low income students is currently in the works thanks to a partnership between the Seoul Medical Group (SMG) and Happy Village.
SMG chairman Min-young Cha announced a donation of $5,000 to Happy Village, the Korea Daily's affiliated nonprofit organization. The donation will be used as part of the $10,000 which Happy Village has raised to provide surgical operations to low income students who are in need of medical help.
"It has always pained me to see patients with financial difficulties as I've been in the medical industry," said Cha. "I've always been thinking about ways to help the Korean community in that regard. There have been many academic scholarships for Korean students, but I realized that medical donations have been rare. So in partnership with the Korea Daily, we decided to provide an answer to that need for low income students."
Cha added that the SMG plans to provide donations on a yearly basis from now.
"The idea started from chairman Min-young Cha," said Happy Village director Mark Lee. "[Cha] suggested that we must help Korean students who cannot receive the surgeries that they need due to financial difficulties of their families. We hope that this donation can inspire the rest of our community to ensure healthier lives for younger generation Korean-Americans."
Happy Village plans to receive applications for students who are in need of surgeries followed by handing out grants to those who it has selected after a screening process.
By Soo Yeon Oh