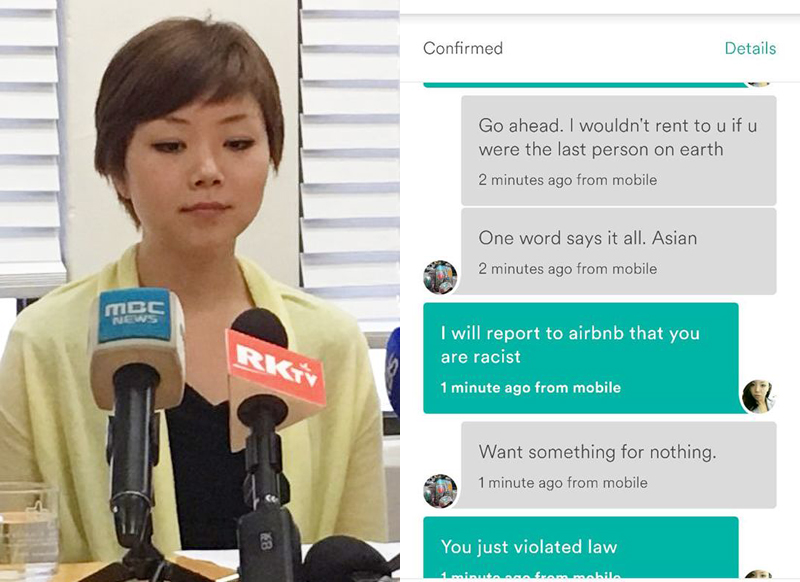 "As fishes protect themselves against predators by traveling as a group, Koreans, African Americans, and Muslims, too, have to gather to react to racism properly."
Dyne Suh, who has recently been declined by a racist Trump-supporter Airbnb host, spoke her thoughts about the recent incident at the press conference held at Los Angeles Korean American Coalition on April 10.
"I don't want to take a legal action," said Suh. "I'm not here to blame the Airbnb host either. The problem is in the society, not an individual."
"Every second generation Korean American would know that Asians experience racism in their daily lives at early ages," continued Suh, speaking her own experience at a young age when her schoolmates bullied her because "her lunchbox smelled bad."
Suh went on to explain why she was having the press conference. "This doesn't change even after school years. Asians suffer from the prejudice that they're quiet, introverted, and not good at speaking English. Not only Asians, but other minority races also suffer from such prejudices. I wish the injustice I suffered to be considered not as a single incident, but as a chance to shed new light on the racism in this society"
On February 17, Dyne Suh was unilaterally declined by the Airbnb host from her reserved stay at a cabin in Running Springs and received racist messages such as "One word says it all – Asian."
Soon after the incident was publicized, Airbnb removed the host from the list and promised to eradicate any discrimination based on sex, religion, and race.
"If you're faced with an unjust treatment including racism, please contact Korean American Coalition," said Joon Young Bang, the Executive Director at KAC. You can contact (213)383-4290 to report or to ask for help regarding racial issues.
Original article by Kim Jae-ra
Translated by Heewon Kim