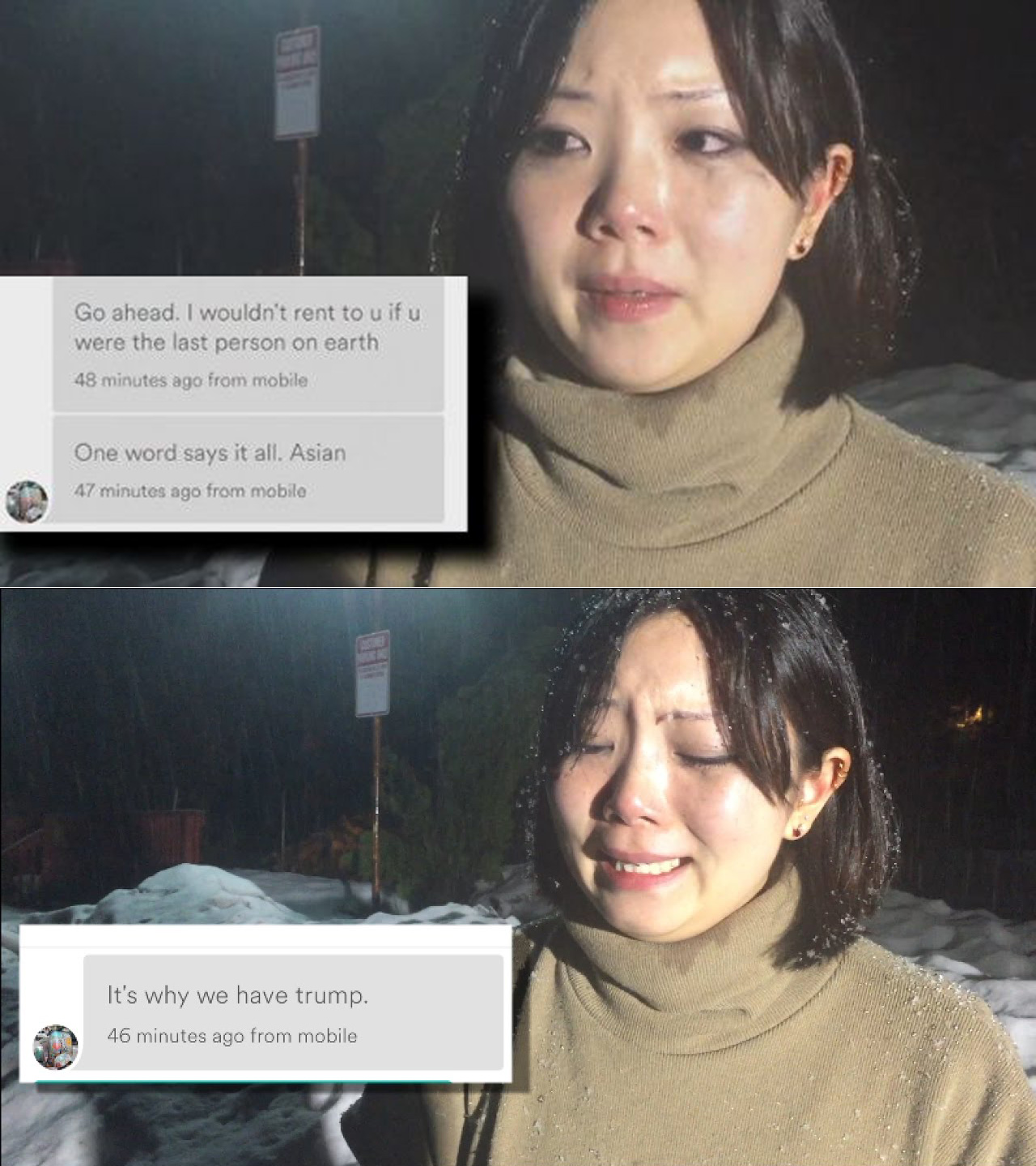 A 1.5-generation Korean American woman from Southern California got declined by her Airbnb host solely for the reason of being Asian.
Airbnb had presented preventive measures due to last year's racial discrimination problem, but cases involving rejected guests and racism are still continuing.
Korean woman Dyne Suh (23) from Riverside had reserved a cabin in Running Springs to spend a short vacation over the Presidents' Day weekend in Big Bear last February. She was on her way to the cabin with 3 other friends, when she found out her reservation got canceled last minute by her host. Dyne got a discriminating message from her host saying "I wouldn't rent to you even if you were the last person on Earth. One word says it all. Asian." The host was a white woman.
Shocked, Suh replied to her host that she will report to Airbnb but the host replied saying "Go ahead. I will not allow this country to be told what to do by foreigners. It's why we have Trump."
Suh had no choice but to turn back in the snowstorm. She met a KTLA reporter on the spot and talked about her incident, shedding tears. "I don't understand the host's actions. I came to the States when I was three years old, and this place has been my home ever since. There were sayings that racial discrimination is over after Obama was elected, but in reality it isn't. It stings. It stings that after living in the U.S. for over 23 years, this is what happens."
Airbnb emphasized that it will not tolerate these kinds of incidents anymore. The host has been banned from Airbnb, and Airbnb promised to end discrimination problems involving race, gender, and religion.
"Trump's followers are showing enmity towards Asian and Latin people due to Trump's actions towards immigrants. These kind of problems are recently on the rise, and it's hard to think this as a minor problem," worried a Korean person who heard about this case.
Original article available on http://www.koreadaily.com/news/read.asp?art_id=5155719
By Hyung-jae Kim
Translated by Ellen Kim