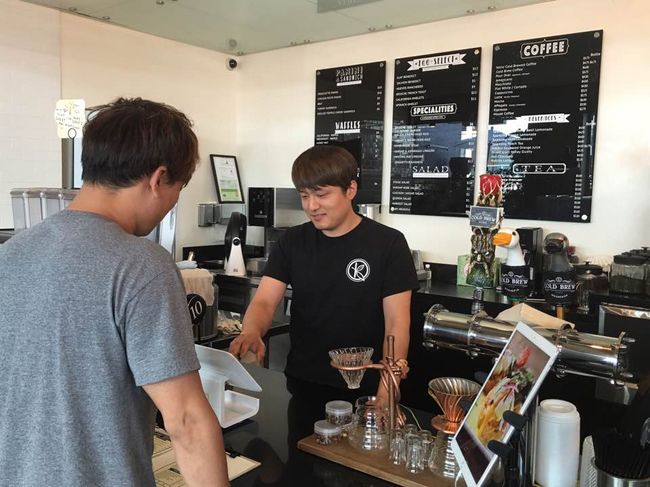 As the demand for specialty coffee, made with uniquely flavored beans brought from specific geographic microclimates, only growing higher in Los Angeles Koreatown, the price for a cup of coffee has now become higher than ever.
Specialty coffeehouses and cafes are the staple of the food scene in L.A. Koreatown, a region with one of the highest population density in Southern California, mainly due to the foot traffic it generates in comparison to other regions around the city.
A cup of Americano, one of the most commonly consumed coffee prepared by brewing espresso and hot water, often costs no more than $2.50 to $3 at popular coffee chains, such as Starbucks and Coffee Bean.
On the other hand, many individually run coffeehouses in Koreatown sell Americano for $3.50 to $5.50 per cup, marking at least a 30 percent to up to 100 percent hike in price.
Moreover, cold brew specialty coffees, including ice blended mocha, caramel macchiato, Dutch coffee and espresso frappe, are often $6 to $7, which reaches the price of lunch special entrees at many of the popular restaurants in Koreatown.
"Having to spend $5 for a cup of Americano is a bit of a burden," said Daniel Jeong, an officer worker in Koreatown.
Specialty coffee's soaring value is directly correlated to the fierce competition among various cafes in Koreatown, according to those involved in the business. As Koreatown cafes are trying to gain an edge in the competition with one another, many businesses importing more expensive, sought-after coffee beans.
The recent opening of renowned coffee chains in L.A., highlighted by Blue Bottle and Stumptown has made it something of a necessity for smaller Koreatown cafes to serve high quality beverages to stay relevant in the competition. In Koreatown alone, there are five Starbucks chains, as well as five Coffee Beans, followed by three Tom N Toms and two Café Benes.
"Our younger base of customers prioritize taste over cost anyway," said Min Park, a manager at Koreatown-based café Klat. "Taste is more important to them above anything else, as they often drink nitro or hand drip coffee. The more comfortable, unique atmosphere at the café is also an important element in drawing customers."
However, for average coffee-drinker Jeong who often consumes an Americano for the purposes of surviving a busy workday, the rising cost is becoming harder to manage.
"It's definitely been a pressure for me to spend $5 for an Americano," said Jeong, who admits to drinking at least two cups of coffee per day. "Even if I were to exclude weekends, buying one cup a day means I'd still spend $1,300 a year. It's a bit daunting to spend that much money as I can book a flight to Korea with the same amount."
By Sung Yeon Lee