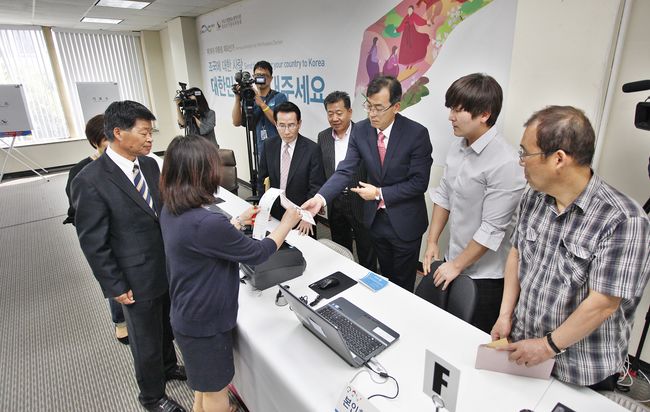 South Korea's first ever premature presidential election following the impeachment of Geun-hye Park has officially begun. The voting booths will be installed in 204 locations across 116 countries around the world are going to hold the election for six days from April 25 to April 30.
Los Angeles, Orange County and San Diego are the locations in Southern California. While the L.A. location will keep the voting booth open for six days, the remaining two locations will hold the election for just three days from April 28 to April 30. Voters can cast their ballots on weekends—April 29 and 30—throughout normal hours between 8 a.m. and 5 p.m.
A total of 294,633 Korean citizens overseas have registered to vote to mark the all-time highest with the U.S. leading the way with 68,234 registered voters. Among cities in the U.S., L.A. led the way with 13,631 registered voters.
"About 3,400 returning voters in L.A. didn't have to submit separate applications to register, so the turnout could be even greater this time," said L.A. consulate office's overseas electoral director Jae-su Yoon. "If they are actively involved this time around, the turnout could surpass 80 percent for the first time and break the previous figure of 79.6 percent from 2012."
The L.A. consulate office issued a notice to alert the voters about the procedures of casting their ballots properly.
All voters must possess a valid identification—passport, Korean social security card, employment identification, driver's license and state ID. For voters who do not have a Korean social security card, they must present a permanent resident card to vote.
"About five to six voters couldn't vote on a daily basis in the last election because they didn't have their permanent resident card," Yoon said.
Also, voters must receive a sealing label to close their ballots after selecting their desired candidate before dropping it into the box. The ballot for the upcoming election is designed at 28.5 centimeters in length as there are 15 candidates.
Voters must also choose just one candidate. In addition, selecting the No. 13 candidate Jeong-sun Kim, who has dropped out of the race, will void the ballot.
By Koohyun Chung