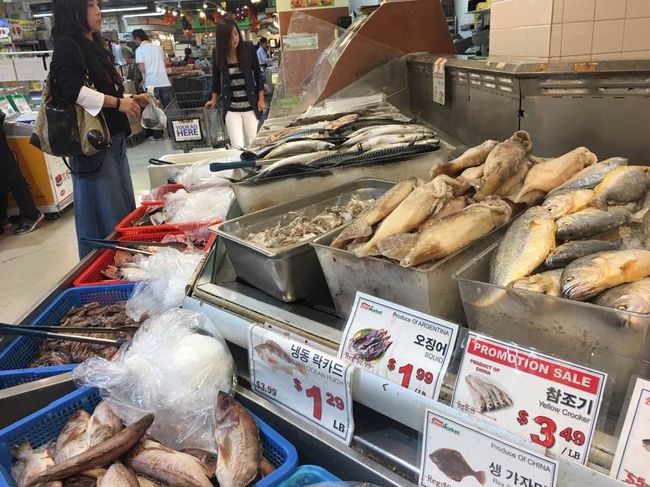 The fishery foods often seen on Korean dinner tables are going through a makeover, as traditional import sources are steadily changing due to factors such as global warming and decreasing supply.
Mackerels, which have long been Korea's all-time favorite fish, are now imported from Europe, while shrimps and squids are coming in from Central and South America. Hairtail fish and octopuses are commonly brought from Africa.
Elsewhere, yellowtail amberjacks are mostly from Jamaica, butterfish from India and billfish from Taiwan. In other words, fisheries customers often see on display at Southern California's Korean markets are imported from all over the world.
Such a globalized importing of fish has not always been as diverse as it is today. At first, most of the fishery foods were imported from Korea and Japan. However, the sources have been diversified amid the battle for lowering prices among businesses. Since then, South America has become a popular location, which eventually led to the expansion into other parts of Asia as well as Central America and Africa.
The primary reason behind the expansive importing trend can be broken down into two. First, the fishery supplies in Korea and Japan have been reduced considerably over the years. Global warming has also played a part.
Sea snails, also known as whelks, have long been a mainstay around the shores of South Korea's Gangwon Province. In recent years, however, sea snails have become virtually extinct. The phenomenon has led to Korean markets in the U.S. importing sea snails from Ireland.
Also, South Korean croakers have also become immensely rare, which has been driving up its demand from Guinea in West Africa in recent years. The supply of billfish from South Korea has decreased by 80 percent compared to 2008, as the species have been primarily relocating to the shores of Taiwan due to climate change.
Similarly, webfoot octopuses have made their way to near Thailand and are no longer common around the Korean peninsula.
Elsewhere, lobsters and eels are primarily imported from Canada.
"We're looking for alternate locations to import fisheries as original sources are no longer supplying sufficient amount," Ocean Fresh Fish president Young-wan Kim said. "So our importing routes and methods are changing rapidly. Even the fisheries within the U.S. are no longer enough to meet the demands."
Galleria Market manager John Yoon said: "The bigger reason behind additional sources for importing is cost. We once sold squids from Korea, but those are more expensive by about $0.50 per pound. So we chose to import South American squids instead."
By Sung Yeon Lee