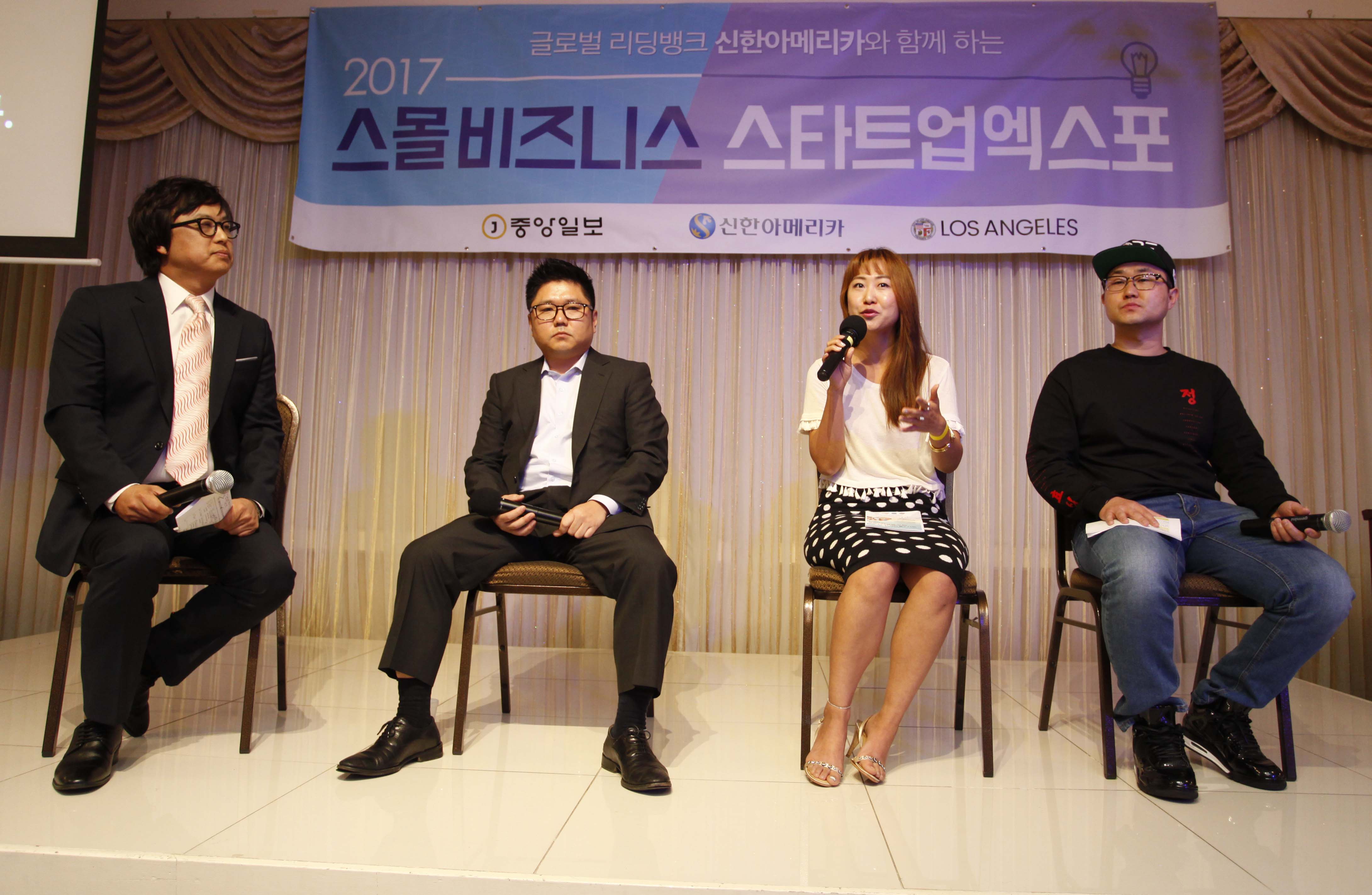 Dreaming of becoming the next great entrepreneurs, 300 Korean-Americans attended the 2017 Business Startup Expo, presented by the Korea Daily and Shinhan America Bank, on March 28. Veteran entrepreneurs attended the event to provide business tips to those who are preparing to get started, while panel discussions centering on topics such as distribution, trades and online sales also took place.
"Amazon is 100 more competitive for businesses than Walmart. Without a business mind that treats customers like kings, one should never start an online business."
That may sound like a textbook advice, but the speakers at the expo offered realistic and detailed lessons for aspiring entrepreneurs.
Three chief executives at the event advised the attendees to "read the trend."
"Many people ask why their products not sell when its quality is just fine," said David Byun, the chief executive of Accessory Geeks. "That's a common misunderstanding stemming from the lack of understanding of how competition works online. It's always good to pick an item that sells without defects for at least a year. It's also important for the business to understand how the trend is set online."
Christine Oh is the president of Lex Group, a distributor of Korean beauty supplies to Nordstrom and Sephora, which he first started with just $6,000. Even though the business centered on distribution, Oh did not even have an officer let alone a storage space when he launched the business. He focused on visiting various shopping districts in Korea to familiarize himself with various trends.
"In the beauty supply business, tens of thousands of dollars could be lost over a trend," Oh said. "On the other end, a simple YouTube video can lead to an item hitting a jackpot for your business."
KoreLimited, the widely known street fashion business, was launched by Matthew Kim.
"I was able to take the Korean flag, which many of our people are reluctant to associate with fashion, and made it a street fashion item," Kim said. "By passing through the walls one by one, I was able to work with so many creative designs."
Another factor that was emphasized by the successful entrepreneurs was one's "sales skills."
"You need a sales skill that allows you to suddenly go out on the streets and come up with an idea to sell a rock," Oh said. "Sales is the centerpiece of the business."
Byun said: "Lacking passion in your own item is the shortcut to failing."
One passionate employee is better than hundred employees who are just there to fill seats at your company, Byun added.
Meanwhile, Kim explained that brainstorming ideas is the most important marketing skill as a businessman.
"Simply setting up a booth and giving away samples is not the same as giving your customers a chance to experience something and to have a memory that they remember fondly of," Kim said. "Hosting events with likeminded businesses was also greatly beneficial."
Kim utilized the Korean festival where he displayed his items at dance, photo and drawing contests.
Byun encouraged aspiring entrepreneurs to stay away from arguing with customers.
"Amazon has become the strongest online sales giant because they treat customers like kings," Byun said. "Rather than arguing with customers by keeping a rigid regulation, conceding to give them what they need will help you to grow your customer base."
Lastly, below are the words from Byun when asked what he had to do to survive and eventually succeed.
"Endure, endure and endure!"
By Brian Choi