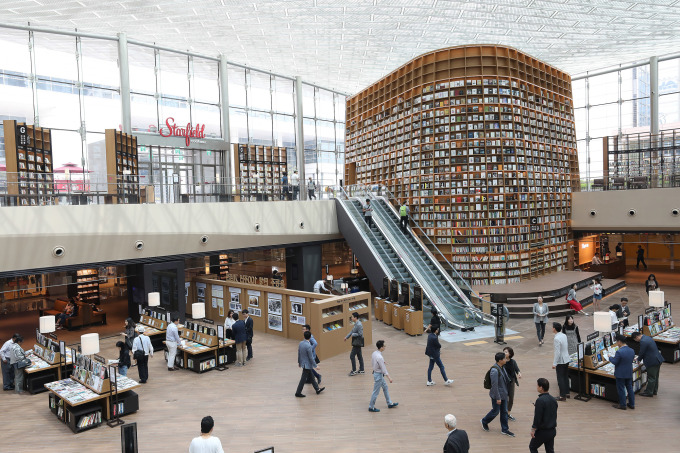 When was the last time you've visited a library? To many people, a library is not a typical place to spend spare time, for its quiet and somewhat repressed atmosphere and limited radius of activities allowed in the space. Even though there is no better place to go than a library when you want to work on your reading quietly, it is not the most comfortable or approachable place to choose otherwise to many of us,.
However, this new library located in COEX Mall in Seoul challenges the popular conception of the library. What if a library is located in the middle of a shopping mall? What if a library engages some noise? What if a library promotes activities other than reading? Starfield Library answers all these questions by its presence, which is impossible to be left unnoticed, partially because of its gigantic, light-emitting bookcases.
Operated by a Shinsegae conglomerate, which has recently acquired COEX and renamed it as Starfield COEX Mall, Starfield Library opened last month at the center of the mall. The two-story book repository houses 50,000 titles, which are provided both in print and electronically. There are about 200 seats provided including sofas and benches, in addition to a stable public wi-fi.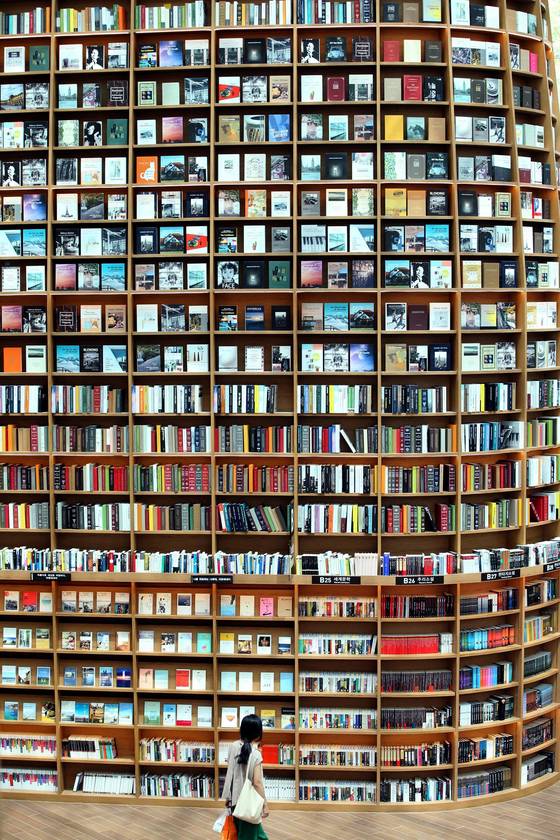 COEX Mall is originally known as a multiplex entertainment mall, where Korea's largest aquarium, various stores, a movie theater, as well as some of the trendiest restaurants are located. Although the new library is placed amongst them, it blends well with the rest, creating an unexpected harmony.
Contrary to the conventional conception of a library, Starfield Library provides an open space where visitors can enter and exit freely, feel at ease, while interacting with others. Visitors to the library don't seek for a quiet working space, but a public area where they can meet their friends, take a rest in the middle of shopping, or quickly connect to the internet before business meetings. Whatever purpose one has, it is different from what people look for from a conventional library.
Books are not available for rentals, but there is almost no regulation on on-site usage. Furthermore, there is no system to prevent theft. According to one of the representatives from the library, Starfield Library will be operated without security screening in spite of concerns for thefts.
"We leave it to the visitors, following the library's theme of 'open space,'" said the representative. "The appropriation for yearly operation, which is about 500 million KRW (approximately $438,635), includes such price."
The atmosphere Starfield Library promotes, even by appropriating extra budget, lowers the wall between public and reading experience. By breaking the wall and placing it in an open area, the library is created anew as a public space which shortens the distance between people and book, both physically and psychologically.
The shortened distance is proven by a sizeable number of visitors who stop by just for fresh Instagram feeds. The library is growing as a popular Instagram photoshoot spot, drawing young trendsetters. Such phenomenon is projected to eventually attract younger population to lead a new reading trend.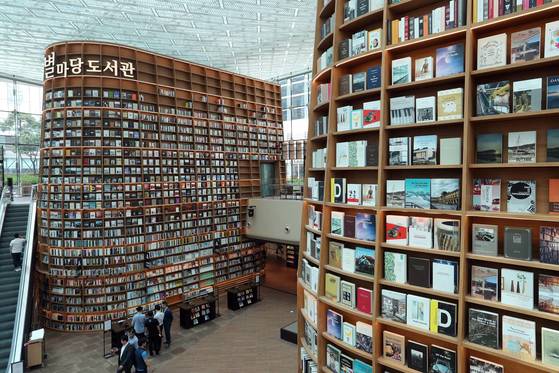 Also, cultural programs provided here are curated to satisfy various groups of people. 7 PM Culture Club, which is held Monday through Thursday at 7 PM, is for people who want brief cultural activities on their way home after work; Play With Library, held on weekends, is a program for families with young kids. Art & Book Concert and Talk Concert, too, make art and humanities approachable to various age groups.
"What Starfield Library is planned to serve is not limited to reading experience," said manager Yoo Kyun-hyung at Starfield COEX Mall. "We aim to make the place where new cultural experiences are provided." Although it is still at the initial stage, Starfield Library seems to carrying out its envisioned role successfully.
By Heewon Kim