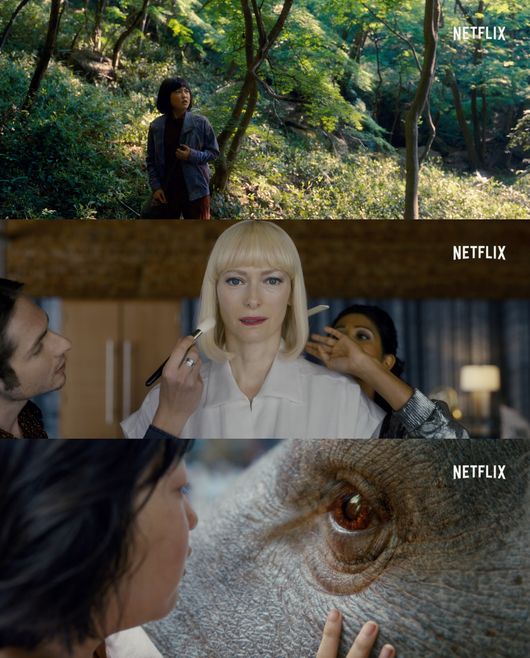 The first teaser for Bong Joon-ho's upcoming fantasy film Okja was released on Tuesday, February 28.
In the trailer, Mija (Ahn Seo-hyun) searches for the "creature" Okja, while Tilda Swinton's mysterious smile grabs audiences' attention. The unveiled appearance of Okja, which has been realized under the supervision of Oscar winner Erik-Jan de Boer of Life of Pi, also maximizes the audience anticipation for the film.
Okja is a meaningful piece to the director Bong Joon-ho as well, as it is the first collaboration with Netflix and is the first film he is directing since 2013's Snowpiercer.
"I was readying the scenario for Okja along with Snowpiercer in 2010," said Bong. "Okja is about animal and human. The relationship between the two is sometimes beautiful and sometimes not. Okja illustrates both cases."
Okja centers around the relationship between gigantic creature Okja and its human friend named Mija who was raised in a rural area in Kangwon province, South Korea. Okja disappears one day and Mija, who desperately searches for Okja, gets involved in unpredicted incidents.
Written by Bong Joon-ho and the author of Frank, Jon Ronson, Okja is produced by Brad Pitt, Dede Gardner, Jeremy Kleiner, Lewis Taewan Kim, Dooho Choi, Woo-sik Seo and Bong Joon-ho with the production of Plan B, Lewish Pictures, and Kate Street Pictures Company.
Cast members include top Hollywood actors and actresses like Tilda Swinton, Jake Gyllenhaal, and Paul Dano, along with Steven Yeun, Lily Collins, Devon Bostick, Shirley Henderson, and Daniel Henshall. Korean veteran actors and actresses like Byun Hee-bong and Choi Woo-shik also make appearance.
Watch the teaser trailer for Okja!
Original article by Kim Bo-ra
Translated by Heewon Kim