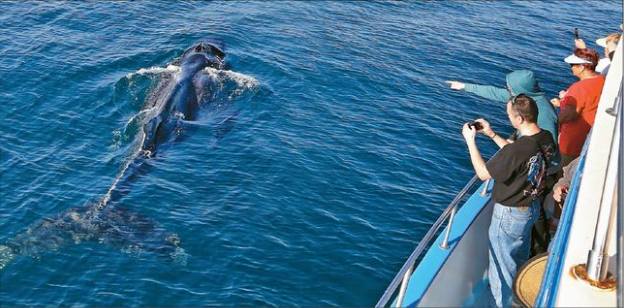 For those of you who don't have a plan for the upcoming Memorial Day weekend yet, there is a great special event you can enjoy with your family—and it is only 12 dollars per person.
If you are a resident at Orange County, you must have heard of the well-known 'whale tour'. Last year in March, Dana Point Festival of Whales especially attracted a lot of peoples' interests about whale watching, and the good news is that the number of whales significantly increased since last year.
According to Captain Dave of Capt. Dave's Dolphin & Whale Watching Safari (dolphinsafari.com), compared to the 178 whales that appeared in 2014, there were 253 whales that appeared last year, which is a 53% increase, and this year, there will be even more whales considering current circumstances.
Thus, a lot of whale watching businesses are opening special promotion events to attract many visitors. The following are the main whale tour businesses of Newport Beach and Dana Point:
Newport Landing
Starting today (27th) until the Memorial Day weekend, the whale tour will begin from the Newport harbor in a total of 4 times a day: 10AM, 1PM, 3:30PM, and 5:30PM. The prices are 36 dollars for adults, 30 dollars for seniors over the age of 60 or children of 3 to 12 years old, and free for infants under 2 years old. Yet, if you use the promo code of '12whale' when you make an online reservation (newportwhales.com) or phone reservation (949-675-0551), you can enjoy the tour with only 12 dollars per person.
Address: 309 Palm, Suite A. Newport Beach, CA 92661
Dana Wharf Sportfishing & Whale Watching
Dana Wharf is the first whale tour business created in the OC area. Similar to Newport Landing, there are 3 to 4 tours a day with a 2-hour interval, and the price varies from 29 to 45 dollars based on the day of the week and time. Every Tuesday and evening tours offer a 50% discount. Make a reservation on its website (danawharf.com), or by phone (888-224-0603).
Address: 34675 Golden Lantern. Dana Point, CA 92629
Original document available from http://www.koreadaily.com/news/read.asp?page=4&branch=NEWS&source=LA&category=&art_id=4302440
Translated by Audrey Joung