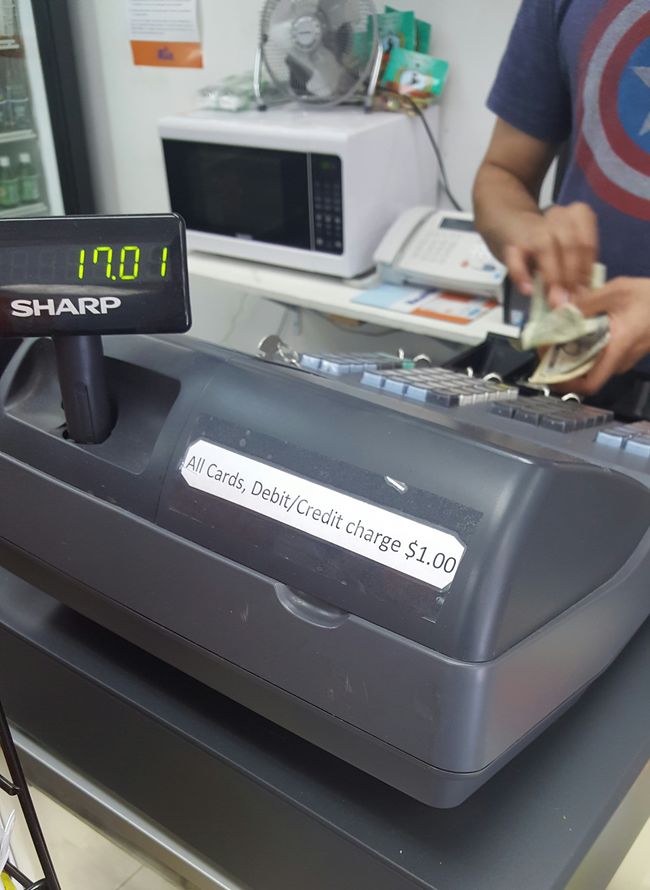 Complaints among frequent credit card users are growing larger as more vendors, including restaurants, liquor stores and supermarkets, are starting to charge their customers a processing fee for non-cash transactions.
One supermarket in Los Angeles Koreatown has recently began charging $0.50 to each customers who use their credit cards for their respective transactions regardless of how much they each spend. For example, a pack of cigarettes on sale for $6.50 would be $7 for customers who use credit cards instead of cash.
Many other vendors around the city have adopted a similar approach, as most Koreatown liquor stores have tweaked the method in several ways, including $0.50 of processing fees for customers who is spending $15 or less, additional $1 fee for all credit card purchases or not accepting credit cards for transactions below a certain amount.
Consumers are sometimes caught off guard by those fees. While the amount may be minimal, being charged unexpectedly with an additional fee is bothersome to many.
"I paid with a credit card and noticed an additional charge of 50 cents," said one Korean-American consumer, who recently was hit with a processing fee at a Koreatown restaurant for using his credit card.
"I asked our server why I've been charged extra and I was told that there's a processing fee for credit card transactions. None of this was explained to me in advance, which made me feel like I've been ripped off."
Merchants say that the biggest reason behind charging a processing fee stems from the increased fee they have been asked to pay by their banks which handle their earnings that come from credit card transactions.
As merchants have been asked to pay an increased fee to the likes of Visa and MasterCard, many are feeling pressured to charge the customers to compensate for their rising expenses.
When customers who own credit cards with reward programs at restaurants make purchases, the merchants pay their banks around 1.95 percent of the total sum in processing fee and an additional $0.10 of a service fee for each transaction. In essence, a transaction of just $15 means that the merchant is levied with the obligation to pay 3 percent of the total amount to the bank in processing and service fees.
"The fees for merchants are rearranged twice a year in every April and October," said an employee in the credit card processing business. "In recent years, there has been an upward trend in those fees. The pressure on the merchants is growing stronger."
In addition, with various reward programs provided as perks in recent years, more people are paying for their over-the-counter transactions with their credit cards compared to the past.
"Most transactions were made in cash until about seven years ago," said one Korean-American liquor store owner. "Nowadays, 70 percent of our customers pay with credit cards. That obviously means we are being charged with bigger fees to pay."
However, consumers also have complaints to make on their own as they feel that businesses are placing the financial responsibility on them to cover for their expenses.
"To avoid paying for the fees, consumers would have to carry around cash," said Matthew Kim, who works in Koreatown. "In this day and age, there aren't many people who carry plenty of cash in their wallets. From the standpoint of a customer, paying an extra 50 cents for a pack of cigarettes that cost $6.50 is nearly an 8 percent increase."
By Sang Woo Park