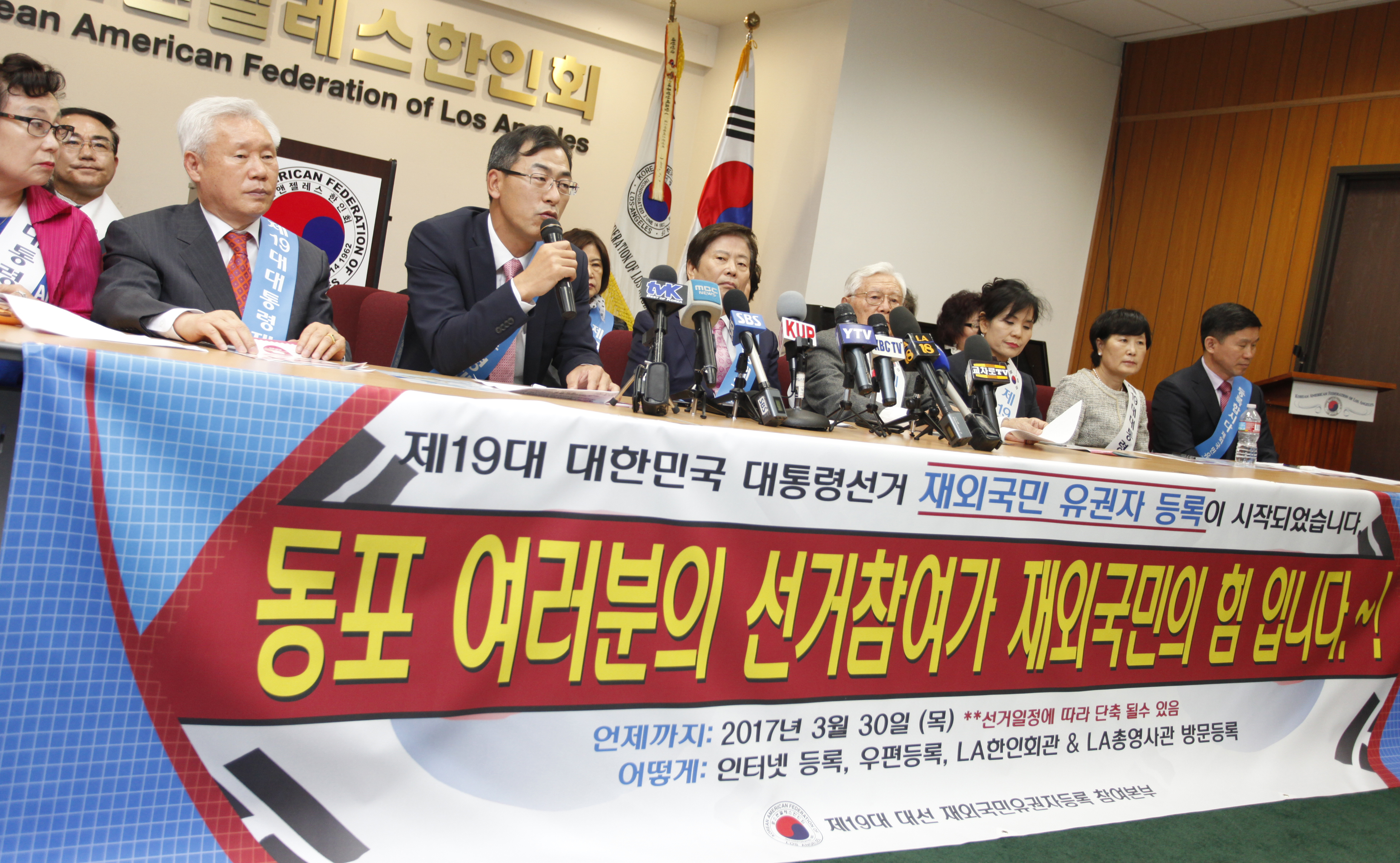 "Let's all take part in the South Korean presidential election."
More than 10 Korean-American community organizations in Southern California have launched a campaign to encourage more South Korean citizens in the region to take part in the 19th presidential election of their country. The organizations are emphasizing the need for the immigrant community to prove that their voice also matters.
Korean American Federation (KAF) of L.A. and the South Korean consulate office announced Tuesday that 10 community organizations are collaboratively launching a campaign to help more South Korean citizens in the U.S. to register as voters with the presidential election set to take place earlier than expected after President Geun-hye Park was recently ousted following an impeachment.
"The criticism in Korea is that elections being held abroad are only wasting its government budget as the voter turnout has been low," said KAF L.A. director James Ahn. "Korean citizens living abroad must put this criticism to silence. The easiest way to secure your rights as a citizen is to participate in elections."
There are currently approximately 145,000 eligible South Korean voters in Southern California. About 8,000 took part in the last presidential election in 2012. Through the newly launched campaign, the participating organizations said that they aim to increase the number of voters for the upcoming election—likely set to take place before May 9—to more than 30,000.
Voter registration is available to all South Korean citizens 19 or older living abroad as long as they submit their application 40 days prior to the election. For the upcoming presidential election, the voter registration will close on March 30.
The eligible voters can apply online (ova.nec.go.kr/cmn/main.do) or by visiting the consulate office.
Meanwhile, the consulate office is also receiving visitors' registration for voters every weekday from 9 a.m. to 5 p.m. on its second floor. The election will take place, presumably between April 14 and 19, at the consulate office as well.
By Hyoung Jae Kim