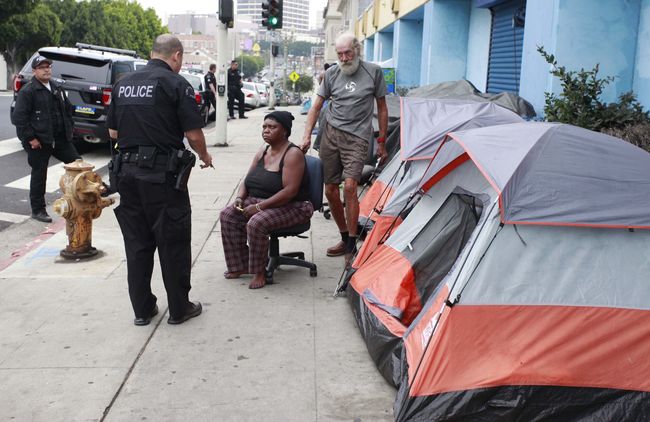 "I recycle things for work.
I make less $20 in a day?
If I get lucky, three meals.
If not, maybe just one"
Los Angeles is transforming into something of a "Tent City." The city's homeless population is increasingly expanding their presence by installing tents in various neighborhoods, including Koreatown.
Per Korea Daily's investigation between Dec. 13 and Dec. 19, there are at least 59 tents across 33 locations across Koreatown in the area between Olympic Boulevard and Third Street going north and south, as well as Hoover Street and Wilton Place going east and west.
The area for those tents, serving as shelters for the neighborhood's homeless men and women, were as long as 200 feet on Wilshire Boulevard and Normandie Avenue, while an area on Vermont Avenue and Fourth Street also has a 100-foot long line of tents for the homeless.
The most populous area in town for the homeless is apparently on Seventh Street between Hoover Street and Vermont Avenue as there are 12 tents flocking into a small block. Additionally, six tents are taking place on Olympic Boulevard and Wilton Place.
Approximately 380 homeless people are spread across Koreatown alone, according to L.A.'s Olympic Community Police Station. The actual number could be far greater considering how it is virtually impossible to count every person residing inside each tent that is sprinkled across the neighborhood.
When the Korea Daily visited one of the areas on Hoover Street and Sunset Boulevard on Dec. 21, one Hispanic man, seemingly in his 20s, was sorting his belongings by his tent."
"I came from Guatemala eight years ago," he said. "I have no family. As you can see, I recycle things for work. I guess I make about $20 in a day? It's enough to feed myself for the day. If I get lucky, it's good for three meals. If not, maybe one. I used to work as a construction worker."
His English was not the most articulate, but he communicated clearly. He said he likes Koreatown better than the streets of downtown.
"Christmas? I have no plans," he said. "I don't know what I'm going to do. I guess I'll work. I have to eat."
A 47-year-old man, Repidel Gonzalez, immigrated to the United States from El Salvador 26 years ago. It has been two or three years since he has lived on the streets of Koreatown.
"One or two days a week, I work in construction," he said. "But I often get nothing these days. In that case, I stand in front of Home Depot on Wilshire and Union. When and if I do make some money, I send something to my family."
On the corner of Olympic Boulevard and Wilton Place, 38-year-old Hong-seok Kim lives in a small park. He uses the workout equipment at the park as furniture. The pullup bar is his hanger for clothes, while the bench press seat serves as his makeshift bed.
It was difficult to communicate with Kim as he was only coherent enough to answer once or twice when asked 10 questions. Only detail this reporter was able to understand was that he was addicted to drugs since a young age and that he is not in contact with his family.
"Hamburger," he said when asked if there is anything he wants for Christmas.
◇ Homeless women who has been on the street for 19 years
Layla has been on the streets since she was 40. She is now 58. Unlike many of her fellow neighbors, she does not even have a tent to sleep in. All she had was a shopping card and a foldable chair.
Still, Layla had a strict guideline for herself. That is to keep her area clean. Even after she eats, she takes her trash to a large bin located a block away from where she is staying. There was not even a piece of waste around where she was staying.
The biggest difficulty for homeless women is lack of public restrooms. For Layla, though, that is not much of an issue. During the interview with the Korea Daily, she excused herself for a "bathroom break," and crouched behind her shopping cart to take care of business with a newspaper and sanitary pad in her hand.
"Removing how others perceive you out of your sight is the only way to survive around here," she said.
Embarrassment seemed like a luxury to her. Not only there are not enough public restrooms, most cafes and businesses are reluctant to provide their facilities for homeless people.
Huffington Post recently reported that menstruation is the biggest difficulty for homeless women as many struggle to afford the pads. Lack of treatment during their periods can often lead to sustainment of various diseases.
"Maybe I'm old now," Layla said. "Life on the streets is only getting harder."
◇ How the homeless survive
At 7 a.m. on Dec. 16 between Seventh Street and Wilshire Place, a man seemingly in his 40s came out of his tent. Not too long after, he welcomed a white minivan that pulled up in front. A Korean man in his 50s hopped out of the vehicle and greeted the homeless people who were awake. They did not converse, but were exchanging food.
Three bananas, some breads and soup in a bowl. After dropping off those items, the man hopped back inside his minivan and fled quickly. Amid the lonely livelihoods among the homeless, the value of sharing and companionship was still cherished.
◇ How the homeless people choose where to live
The two women the Korea Daily met at 3 p.m. on Dec. 15 became friends after meeting on the corner of Olympic Boulevard and New Hampshire Avenue. When this reporter told them out of a concern that it will rain later in the day, they showed little to no reaction, saying the roofed bus stop should be enough for them to stay dry.
One of the women said that she once worked as an electrician.
"I was forced onto the streets after getting fired," she said before adding that she moved into Koreatown about a year ago. "There aren't many options for homeless people. Where we decide to rest is essentially my home."
By Soo Yeon Oh, Hyoung Jae Kim