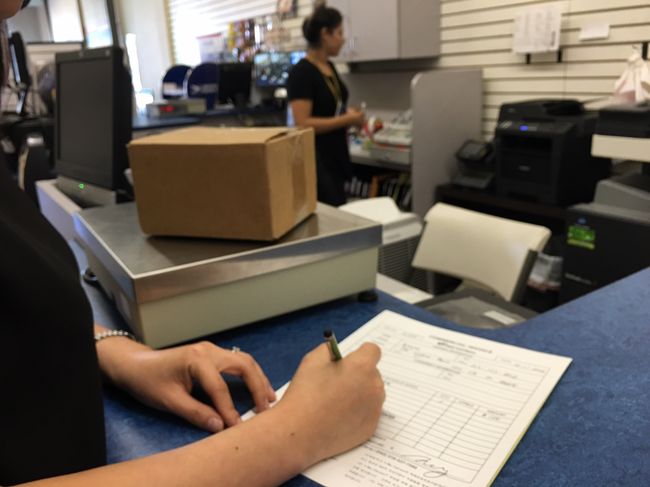 The competition among Los Angeles Koreatown's shipping companies have reached a point of war by now.
The battle to offer the best deals to attract customers has heat up more than ever before. The industry's old guards, such as Hyundai Logistics, Hanjin and Dazen Express, have been joined by KT Express and GMF Express, both of which have recently launched shipping services to round out the competition.
However, in Koreatown alone, the number of shipping companies, which primarily deal with sending and receiving packages exclusively from South Korea, have been reduced from about 30 only three to four years to 20 now. Despite that, those within the industry agree that the town is still overflowing with businesses offering the same services.
While the sheer number of businesses make it seem as if the industry is vibrant, the competition has become that much more about merely surviving rather than prospering. Many companies are advertising their services as the "cheapest" or the "guaranteed one-day delivery" to gain an edge in the competition.
One shipping company has recently started a $4.99 per pound deal with an additional dollar for every pound thereafter. While that remains as the lowest deal available in Koreatown, another company is promising a one-day delivery for $9 per one kilogram. There is also a company that is offering a door-to-door service to distinguish itself.
With the competition so fierce, the price for sending packages is becoming cheaper by the day. Only five years ago, a base price for shipping and handling cost around $25. Nowadays, some business is charging less than $10 for the same service.
"We recently closed our branch on the 8th Street in February," said Hyundai Logistics executive James Park. "There were some issues with revenue generation, so our headquarters began to restructure the business model.
There are still 'ghost businesses' that come and go in this industry, because companies use lowered prices to attract customers, but start to face problems with customs as they fail to fully abide by the regulations. Customers have to be intelligent with choosing the right shipping company before they start to consider lower price above anything else."
Another reason for the recent struggles among shipping companies is due to the trend in which Koreans are starting to purchase goods more regularly from Europe and China, rather than the U.S. unlike the past.
Also, the shipping companies have relying too heavily on direct transaction between buyers and sellers who reside in Korea and the U.S. for too many years, which make it more difficult for them to expand the reach of their market.
"States like New Jersey and Oregon either have no tax or it's cheaper compared to L.A.," said one employee at a Koreantown shipping business. "So customers would rather use businesses in those areas to send their packages. The competition is only getting tighter and we honestly don't see the end of the tunnel at this point."
While business has become slow among shipping companies based in L.A. Koreatown, those located in peripheral areas, such as Torrance and Buena Park are still offering a comparatively stabilized price.
"I know that the price has been driven down beyond the limit in L.A. because of the excessive competition," said Dazen Express president Jeong-jae Hwang, who recently opened a branch in Gardena, Calif. "But in towns surrounding L.A., the prices are still quite stable."
By Sung Yeon Lee