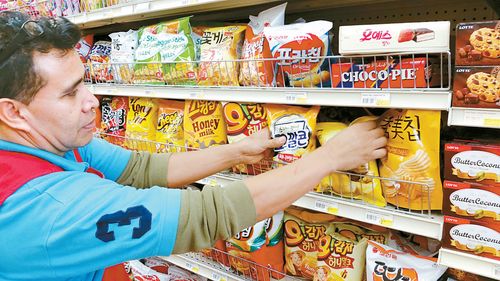 Korean snacks are becoming increasingly popular. Over the last few years, Korean snacks have been displayed on the shelves of many non-Korean grocery stores, especially in Chinese-American markets.
Those within the industry said that the popularity of Korean snacks stems from its less salty and sweet taste as well as the relatively low calories. After recognizing that there is an untapped market, South Korean manufacturers are directly targeting non-Korean businesses.
Lotte is currently selling its Ghana Chocolate, Chocopie and Pepero via American retailer Kroger. Orion has also been distributing its Chocopie to Walmart and other Chinese markets for years, while Haitai has long been supplying Korean snacks to non-Korean businesses.
"Kroger has already made a pre-order worth up to two large containers as Korean snacks have received excellent reception," said Eun-jin Park, the deputy officer for Lotte International's U.S. business. "The snacks will be sold at 2,000 locations around the country starting this month."
Additionally, online shopping malls and websites selling Korean snacks have also increased in numbers in recent years.
Even at Korean markets, the employees there admitted that more non-Korean customers have come in for the sole purpose of buying its snacks.
The Unites States is responsible for 18.1 percent of exported goods from Korea's Agro-Fisheries and Food Trade Corporation, according to a recent study. That is the second largest share following China. Exported Korean snacks alone have generated approximately $251.6 million.
In 2011, the volume of Korean snacks imported into the U.S. was 5,682 tons. That figure has risen to 7,883 tons in 2015. The revenue for Korean snacks, cookies, candies, jellies and chewing gums has also increased drastically from $24.8 million to $35.3 million during the same period.
By Sung Cheol Jin