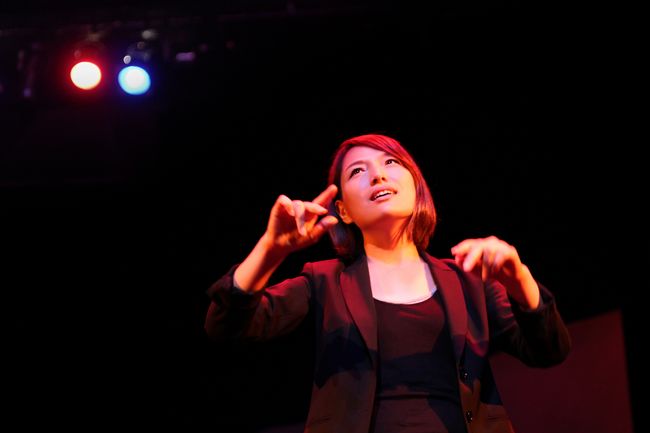 "I'd like to console hearing impaired people with the beauty of music."
A concert was held in Los Angeles on June 9 to support Jong-won Kim, a 2-year-old boy who is suffering from a rare form of genetic disorder. Jazz vocalists Dong-woo Lee and Yeon-ah Shin took the center stage at the concert.
Throughout the concert, Eun-jeong Kim stood a few feet away from the two artists. She purposely dressed in black to make sure she is not clearly visible to the audience. Kim was invited to work as the concert's sign language interpreter, whose job is to turn the words of the music into sign language for the hearing-impaired people.
It may sound strange that hearing impaired patients would attend a music concert, but that sort of reaction would quickly change once one sees Kim's work. She possesses the skill to deliver the emotions in music through facial expressions and gestures in addition to her sign language.
"I was born as a terrible singer," Kim said. "I always wanted to be a part of the choir at the church. I tried hard, but it just wasn't working out. Then, I learned that praising God through music is not something you can only do with your voice. That's when I started learning sign language at the Milal Mission."
Kim first took the stage in 2011. It was a concert held by the church for charity.
There are more than a few difficulties as a Korean sign language interpreter in the U.S., Kim said. The first obstacle for her was to learn both American and Korean style sign language. Once she mastered it, her next challenge was to find ways to deliver emotions more clearly. Simply interpreting the words didn't deliver the emotions of the message, so she had to involve facial expressions and body languages, but that is still difficult for her to this day.
"I listened to the music as much as I can prior to the concert to prepare how I'm going to express certain words," Kim said. "I incorporate everything from body language to facial expressions to deliver how I'm going to express the emotions. It takes a lot of time to practice that."
As Kim continues to build on her career, she has developed an affection for hearing impaired people.
Realistically, not many concerts invite hearing impaired patients. Kim is only hoping that more organizations would reach out to them.
"Music is meant to evoke both happiness and sadness in people," Kim said. "I'd like the hearing impaired people to also attend musicals and operas and feel the same emotions. I'd like to play the role of bridging that gap."
After the concert, a few people reached out to Kim to praise her role at the event.
Even though Kim was dressed in dark colors, her presence shined brighter than anyone else as her affection and love for the underprivileged people clearly showed in her work.
By Jiyoon Kim