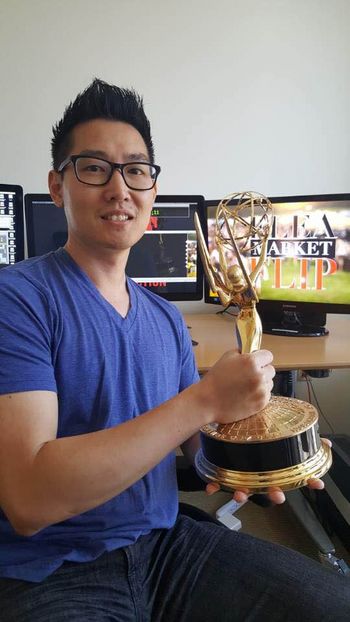 "I want to produce shows that mirror the world."
A Korean-American television editor was recently selected to win the Daytime Creative Arts Emmy Award.
A television series edited by a Korean-American man was nominated at the 41st Daytime Emmy Awards. The ceremony, hosted on June 22 in Beverly Hills, awarded HGTV's Flea Market Flip, known in the Korean-American community as the TV series edited by Brian Kim.
Flea Market Flip, hosted by Lara Spencer, who also leads ABC's Good Morning America, is currently being aired nationwide during the day on HGTV. A role of a TV editor is to tailor the content to the preference of the audience by working together with the directors and producers. Kim, 35, is responsible for working with Flea Market Flip's writers and directors.
Flea Market Flip is a reality game show in which contestants purchase and items under a budget only to their business minds to resell them. It was recently won the Emmy Award for lifestyle programs. Currently into nine episodes, Flea Market Flip has been edited by Kim since 2012. Five years after taking the job, he is now the chief editor of the show.
Kim came to the U.S. from South Korea with his family at age 3. He has always aspired to become a filmmaker.
"I gained a lot of experience in films, documentaries, commercials and music videos after graduating college," Kim said. "I was an assistant director for Korean drama Love Story in Harvard on SBS at one point."
However, Kim felt that directing did not provide him with enough security for the future. He ultimately chose to reroute his direction and turn into an editor.
"Looking back, I think I've made a good decision," Kim said.
Nonetheless, Kim still has not given up on his dream to one day direct a documentary or drama. Kim added that he wishes to see more Koreans working actively in Hollywood.
"It's obviously not easy for Koreans to survive in the American entertainment industry," Kim said. "But we can make a market for ourselves if we continue to promote our identity."
"I just hope more Koreans can contribute to creating our own culture within Hollywood. The power of Asians in the film industry here is still insufficient, but I believe that we're improving. I'm proud to win this Emmy as it's the reward coming from that process."
By Jiyoon Kim