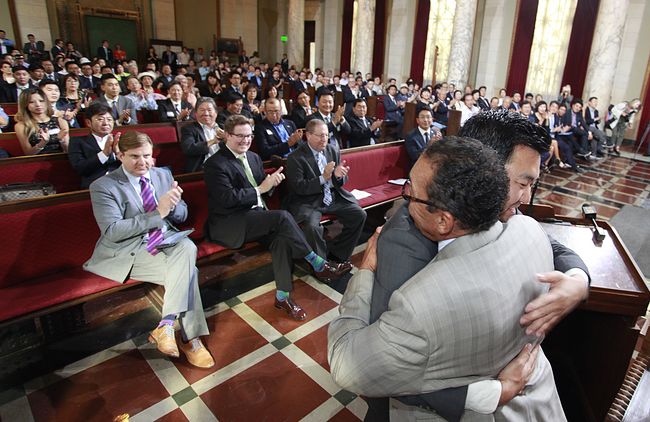 For the first time ever, Los Angeles Koreatown's businesspeople held a face-to-face meeting with the city government officials in an effort to promote active exchange.
The Korean Chamber of Commerce hosted the inaugural "Meet the City" event on Wednesday with L.A. City Council President Herb Wesson and City Councilman David Ryu among the attendees.
The mission of the first meeting was to strive for civic betterment of Koreatown and the city of L.A. by developing a deeper understanding of the city's administrative policies.
L.A. City Controller Ron Galperin, City Councilmen Paul Koretz, Mitch O'Farrell, City of L.A. Board of Public Works Commissioner Kevin James and Korean American Federation of Los Angeles President Laura Jeon were also among about 300 people who attended the meeting.
Similar meetings have taken place in the past between the city and its Hispanic communities, but this was the first time such an event was held for Korean-Americans.
Officials of 17 departments from the city government, including the mayor's office, police, fire, harbor, water and power departments, public works services took part in the meeting, in which they provided briefings of their tasks and programs to businesspeople in Koreatown.
"This was an important meeting as the purpose was for the Korean-American community to seek the city's cooperation in dealing with various issues it is facing," said Ryu. "It was also to strengthen the relationship between Koreatown businesspeople and the city's politicians and officials."
"This was a valuable time for the businesspeople in Koreatown to network with various departments of the city government," said Eun Lee, the chairman of L.A.'s Korean Chamber of Commerce. "We were able to create a pathway with this first meeting. Going forward, we hope to have more detailed discussions with the city officials."
By Michael Won