If you have heard of the Hallyu Wave, you might associate the term with K-Pop or K-Dramas; such popularity travels overseas as it gains recognition in the original country. This year, Korea Foundation cited that K-Hip Hop is the new trend in the Korean Wave. Many artists are receiving many acclaims from both the Hip Hop scene and the general audience.
Elements of Hip Hop have been incorporated in K-pop since the late 1990s; most girl or boy groups have rappers that have their own spotlight during a song with a rap. However, the actual subgenre of K-Hip Hop started to develop after Seo Taiji And Boys debuted. Slowly, Hip Hop started to become mainstream as artists began to use techniques like rhyming effectively with the Korean language. Groups like Dynamic Duo and Epik High gained extreme success in the 2010s. Although famous, the genre wasn't exactly huge moreover out of Korea. Today, it is widely accepted by Koreans as people dance and rap along with likeable artists.
The case that turned K-Hip Hop from a subgenre to its own main category was Show Me the Money. The first season was released in 2012 and this year, marks its 5th season. Despite controversy, especially in the editing aspect that broadcast fake arguments between judges and contestants, many people tune in each week to watch the show. Although the main purpose is for one winner to gain a big sum of money, it is now a program that allows underground rappers to join the mainstream, for K-Pop idols to prove themselves as real rappers, and to discover talented regular people. For the past month, songs created from the fifth season have been topping the music charts, even beating numerous popular K-Pop groups. In addition, a female-only Hip Hop TV show, Unpretty Rapstar, stirred up interest amongst the people for similar reasons. Well-known talk shows feature rappers as guests, which allow the viewers to know them on a deeper level and develop a better understanding of the genre instead of relying on stereotypes.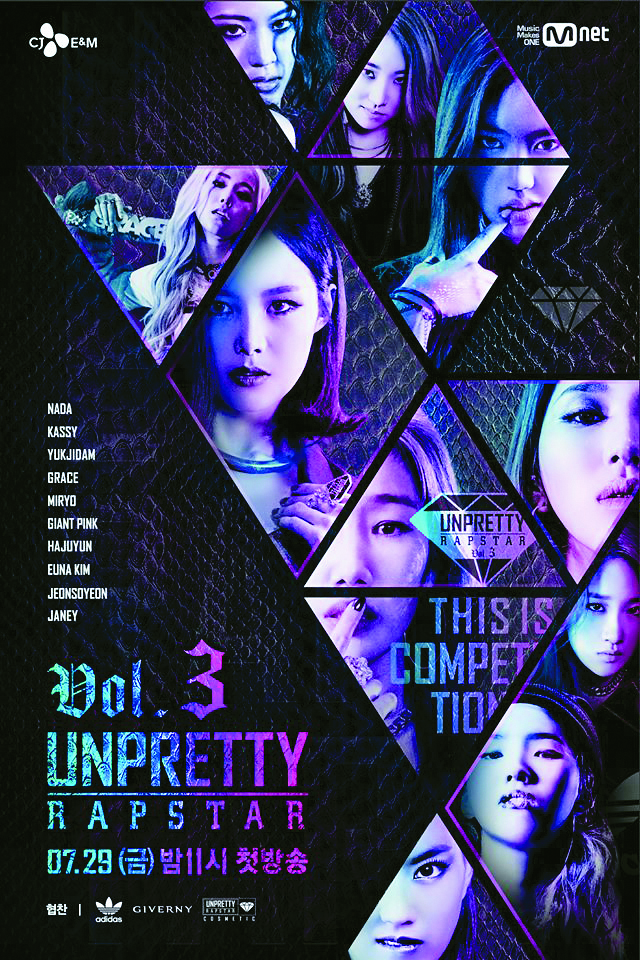 As Korea starts to play mainstream Hip Hop songs in the streets, restaurants, clubs and elsewhere,  those who follow the Korean wave naturally catch up on the trend. People from the U.S. and other foreign countries divert from the common K-Pop songs and add the purely K-Hip Hop songs into their playlists. Nowadays, it is a usual case to see people stumbling upon the Korean culture through Hip Hop, which can be seen in Hip Hop music videos, such as "It G Ma" by Keith Ape. The particular song, released in 2015, has over 25 million views due to its catchiness. It can be seen that it brought the Hip Hop scene even more to the top.
With a few searches, you can find various K-Hip Hop songs, ranging from bubbly, romantic collaborations between a female singer and a rapper to a four-minute cypher by your favorite rapper. Although it is for entertainment, it is vital that one stays sensitive to the genre and stay appropriate.
By Eunice Kim