Women spend so much time doing makeup, but during summer they have trouble with smeared eye and skin makeup due to humid weather and sweat. You should rethink your beauty routine in the summer. Many people wonder 'Is using waterproof makeup really worth it?' The answer is yes.' It's time to talk about waterproof makeup. There are some Korean cosmetic brands that are well known for being waterproof. From waterproof eyeliner to waterproof sunscreen, here are five K-Beauty favorites.
EYELINER – THE FACESHOP  GELSET Smudge Proof Auto Eyeliner (0.6g, $11.99)
This Eyeliner is coated with a colored line on eyes; it is long-lasting with vivid color. It sticks to the skin immediately. It is so smudge-proof that it stays on all day long without any smearing from water, sweat, or skin oil. Its ingredients make it totally water- and sweat-proof.
BB CREAM – TONYMOLY LUMINOUS PURE AURA CC CREAM(50ml, $16)
This cosmetic provides higher coverage and gives your skin nice glow even if the weather is humid, wet, or sunny. The cream serves many functions – sunscreen, whitening, wrinkle repair, moisture, primer, and base makeup for your skin. It creates smooth and moisturized skin and remains for a long time. It prevents summer makeup from melting when you sweat too much.
PRIMER – BANILA CO PRIME PRIMER CLASSIC (30ml, $22)
It is gel-textured primer which minimizes the appearance of pores and keeps your makeup on all day long. There are 6 versions of primers: Classic, Classic Matte, Hydrating, Hydrating Shimmer, Anti-Wrinkle, and Purity. It stays put for about 12 hours even if it comes into contact with water and humid air. This product was selected as the #1 primer on Korean Beauty TV show Get It Beauty's blind test.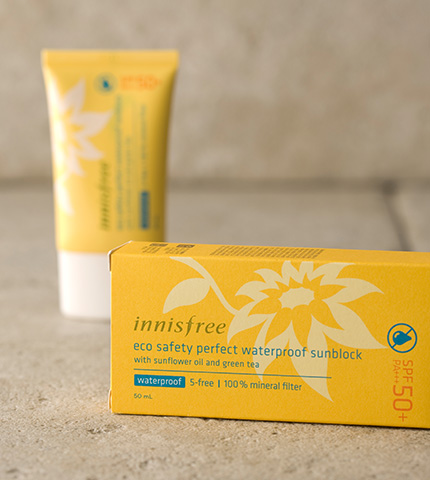 SUNSCREAM – INNISFREE Eco Safety Perfect Waterproof Sunblock SPF 50+ PA+++ (50ml, $16.00)
Made with organic sunflower oil, this product protects your skin against UV rays. It revives skin's healthy tone and texture. Even if you participate in outdoor activities and swimming, it will stay on the skin well.
MASCARA – ETUDE HOUSE Lash Perm Curl Fix Mascara (6.5 g, $14.40)
Once applied on your eyelashes, it will remain there for the entire day. It is so waterproof that it does not get smudged with any sweat, water, or moisture, while maintaining a strong, durable curl. Even after getting wet, this mascara will stick to your eyelashes.
By Daeun Jung