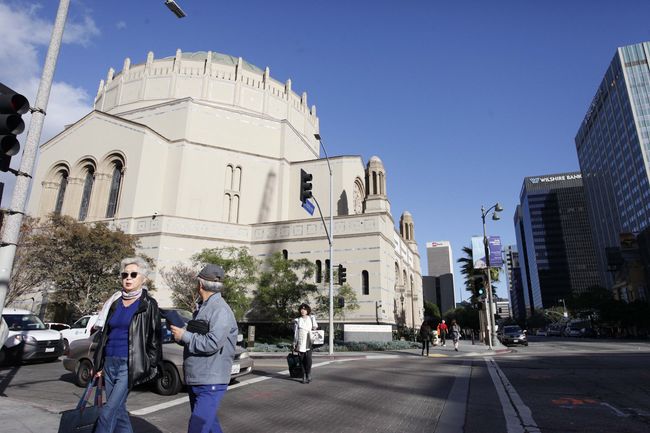 About 25 percent of the population fall below the poverty line, while 33 percent experience hunger on a regular basis. Meanwhile, 38 percent do not have health insurance, while 27 percent of all children and 20 percent of all adults are suffering various forms of diseases, including obesity and diabetes. Among children attending school, 80 percent rely on free meals provided by their schools for lunch.
That is the reality of today's Los Angeles Koreatown.
A Jewish group, mainly represented by Wilshire Boulevard Temple in the center of Koreatown, has been offering help to the underprivileged members of the community through its Karsh Family Social Service Center since last month.
The temple stresses that its members are merely following God's words of "loving your neighbor as yourself" when asked about the motivation behind the program.
Recipients of the services receive various forms of assistance, ranging from legal advice to consumer protection. Food bank, dental and eye care and even English classes are offered through the program. Children are also invited to the rooftop of the temple where there is a basketball court for them to play on.
"Any struggling Korean immigrant can take advantage of our services," said the temple during via a phone interview with the Korea Daily. "Legal advice program is held every Tuesday from 10 a.m. to 2 p.m. The English class is also every Tuesday from 2 to 3 p.m."
The temple's Rabbi Steve Leder said, "We're located in the heart of Koreatown. This is the most diverse and dynamic community in all of America, but within a five-mile radius from our temple, one in every three adults experience hunger on a regular basis. This is obviously a sad reality and we all have the obligation to help them."
Founded in 1872, Wilshire Boulevard Temple has more than 8,000 members and is considered as the largest Jewish temple in L.A.
▶ Inquiry:(213) 401-4651, karshcenter.org
By Michael Won