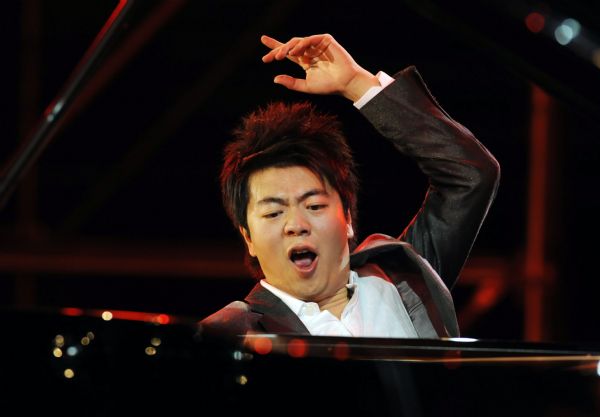 Music legends Lang Lang, Yuja Wang, and Jean-Yves Thibaudet are to perform at the Hollywood Bowl during July and August, celebrating the end of summer with an explosive finish.
Chinese concert pianist Lang Lang will be coming to the Bowl on July 12, while Wang is scheduled to perform on July 21, and Thibaudet on July 26.
Internationally acclaimed pianist Lang Lang has collected accolades from the New York Times as the "hottest artist on the classical music planet" and named the "world's ambassador of the keyboard" by The New Yorker. Listed as one of the top 100 Most Influential People in the World by Time Magazine in 2009, Lang Lang will be playing Tchaikovsky's Piano Concerto No. 1 with the Los Angeles Philharmonic in his July 12 performance.
International sensation Yuja Wang has captured audiences with her "palpable magnetism" and "distinctly contemporary sensibility." As one of today's most sought after soloists, Wang will be playing George Gershwin's jazz infused Rhapsody in Blue accompanied by Conductor Gustavo Dudamel and the L.A. Phil on July 21.
Grammy-nominated artist Jean-Yves Thibaudet has been decorated as one of the world's finest pianists for the past three decades. Inducted into the Hollywood Bowl Hall of Fame in 2010, Thibaudet will be performing Beethoven's Leonore Overture No. 3 with the L.A. Phil on July 26.
Entering into his seventh season as Music and Arts Director of the Los Angeles Philharmonic, Dudamel is one of the most decorated conductors of his generation. Named Musical America's 2013 Musician of the Year, one of the highest honors in the classical music industry, Dudamel will conduct the L.A. Phil for the Bowl's Tchaikovsky Spectacular with Fireworks on Aug. 5 and 6. Members of the American Ballet Theatre will take the stage to perform selections from Swan Lake, including South Korean principal dancer Hee Seo.
Original article manuscript can be found here
Translated/Adapted by Hankyul Sharon Lee