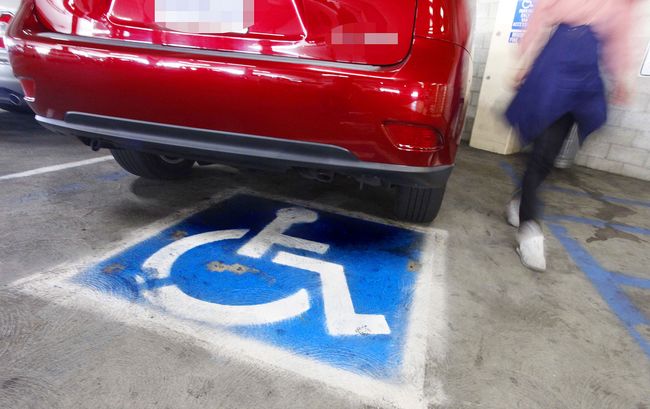 The abuse of disabled parking spaces is becoming a serious problem.
Tens of drivers are illegally occupying disabled parking spaces on a daily basis at various structures by placing the parking decal by the windshield even when they have no physical discomfort.
The Korea Daily went out to two separate parking structures of a large shopping mall inside Los Angeles Koreatown from 10 a.m. to 6 p.m. on April 12. During those eight hours, each structures had 28 and 42 cars, respectively, which occupied the disabled parking spaces.
The reality was shocking.
Of the 24 drivers that occupied disabled parking spaces at one mall, 16 had no physical discomfort. In other words, 66 percent of the drivers parking their vehicles in the disabled spaces have done so illegally. Two of those cars did not even have disabled decals.
It was not much different at the other shopping mall.
Of the 42 cars parked in the disabled parking space throughout the day, 21 drivers were not handicapped.
There were a variety of forms in illegal parking cases.
When asked if and where the injury has occurred, one family fled after explaining that they were running out of time. About 10 minutes later, the same driver came to move the car to a different space.
Another man in his 70s with a disabled decal in his car said: "I'm not the person who's disabled. My wife has the decal as she went through a surgery." However, his wife was not with him at the time. He immediately moved his car after this reporter approached him.
A woman in her 60s who parked in the disabled space reacted angrily to this writer's question and said, "Why do you ask? I've done nothing wrong."
Another man in his 60s was seen walking fast towards his minivan. He replied that his left foot has been repaired with metal staples.
As the situation continues to get worse, the actual disabled drivers are struggling to find the parking spaces. "I do feel that it has gone overboard as I see totally able-bodied drivers parking in the disabled spaces," said Nasung Milar Church pastor Anna Kwon.
A mother driving with her son who was suffering down-syndrome drove around the parking lot to find a disabled space, but had to settle for a regular spot as the other spaces were already occupied.
Shortage of disabled parking spaces in California has long been a contentious issue. The Department of Motor Vehicles announced that approximately 2.4 million drivers in California have obtained the disabled decal. Each parking structure in California are required by law to have at least one disabled space for every 25 regular spaces, marking the rate at just 4 percent.
"I already drove around the entire parking lot three times," said 73-year-old L.A. resident Eunice Kim. "There are too many disabled drivers and too little spaces for all of them. The disabled drivers are now just better off finding a regular space."
Many drivers are working around the law. It is common to see parking decals displayed by the windshield with their expiration dates snidely hidden for some reason.
No security guard at both parking structures were in place to regulate the validity of drivers occupying the disabled spaces.
By Jaera Kim, Jiyoon Kim