He shows up in a nifty suit designed by Alexander McQueen, whose trademark skulls are printed across the outfit. It is not exactly a look one expects from a traditional businessperson. He is David Lee, a 59-year-old barnstorming entrepreneur with a career that is as radical as his fashion sense.
Lee has become busier recently as he has just launched his new venture, called KAIZEN Dining Group, headquartered in Los Angeles. Speaking to the Korea Daily, he seemed as passionate and fiercely competitive as ever, even after 24 years of running Kabuki.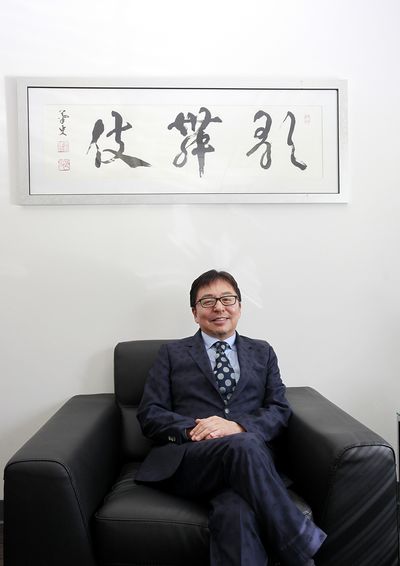 # From an engineer to a restaurant owner
After graduating from South Korea's Yonsei University with a degree in mechanical engineering, Lee moved to L.A. in 1982. He later earned his master's degree in mechanical engineering before working three years at a renowned glass manufacturing company. As his work hours were fixed from 6 a.m. to 2 p.m., Lee began expanding his horizons into culinary business, enrolling in Cal Poly Pomona's MBA program in hospitality management.
"I piqued my interest in Japanese food after immigrating to the U.S.," said Lee. "When I was still young, Japanese food was not the most accessible, because it was mainly available in high end restaurants. That was also when my co-workers would brag about going to a Japanese restaurant on weekends. That's when I knew that it had potential."
Converting into a culinary entrepreneur from a mechanical engineer may not seem like an easy road to take, but Lee thought differently.
"You don't give up on a woman you like just because you're afraid of potentially breaking up with her later," Lee said. "It's the same in business. I'm also just optimistic"
After completing the MBA program, Lee felt more certain about his plans to start a Japanese restaurant. In April 1991, he opened the first Kabuki restaurant in Pasadena, which cost him about $300,000. Most of the funding, admittedly, came from the SBA loan. Although the business took off, Kabuki's revenue began dropping rapidly after the L.A. Riot in April 29, 1992.
# Bouncing back to success
Lee obviously could not sit back and watch his business go by the wayside. To reduce Kabuki's wage bill, he learned how to make sushi on his own to serve as the restaurant's chef. He invested time in developing new items in the menu. After about two years of hard work, Kabuki's monthly revenue reached $200,000.
That is also when Lee met a business partner of his lifetime, an independent real estate agent who once served as California Pizza Kitchen's vice president during a time when the restaurant expanded into a nationwide business.
"A Jewish man who came to my restaurant regularly visited my office one time," Lee recalled. "He said that Kabuki is the type of restaurant that should eventually become a chain. He told me that he would look for a location for me to open up a second restaurant. I knew nothing about real estate at the time, so my relationship with him was invaluable."
The second Kabuki restaurant eventually opened in 2000 in Woodland Hills. Today, Kabuki is located across the U.S., ranging from Nevada to Arizona to Texas.
However, Lee admits that his 25-year career has not been as smooth as it appears to be. He accepts that "greed" had almost driven him out of business one time. After he was approved for a loan of $6 million to open Kabuki in Las Vegas and Phoenix in 2008, the mortgage crisis broke out and threatened his empire.
"Two years after that made things extremely difficult for me," said Lee. "The four locations I opened in 2008 were adding $100,000 of debt every month. I just had to believe that the quality of food at Kabuki would win out in the end."
Today, the two restaurants in Arizona are now generating $5 million in revenue.
"I learned not to overinvest," Lee said. "One new location every year is the realistic goal."
# Preparing the "new school entrepreneurship"
In 2013, research and consulting firm Technomic selected Kabuki as one of its top 500 chain restaurants in the country. Kabuki placed third behind only Nobu and Benihana in revenue by per store at $3.3 million (total revenue is estimated to be around $60 million).
Lee is now preparing for another challenge. After founding KAIZEN Dining Group earlier this year with the goal of diversifying his business, he opened Tengoku Ramen Bar in Arcadia last September. The second location of the ramen bar is set to open in L.A. Koreatown in February, while Japanese-style friend chicken brand is also ready to launch next year.
Lee stresses that adjusting to the rapidly changing trend is his ultimate mission. To keep his ears open to sound advice, he enrolled in Harvard Business School's executive education program in May.
"Every time I visit, I sit in for lectures for about a month while living in the school dorm," Lee said. "It's obviously tough, but studying is fun. There's nothing more exciting than learning a new skill and mastering it. The idea to launch KAIZEN also came during a class last year. It means innovation is Japanese."
Case is point, innovation is the key behind KAIZEN's business model.
"Kabuki is in its 25th anniversary," said Lee. "I'm constantly trying to make it as competitive as its age makes it seem. The next plan of action for me is the 'new school business management.' I'm going to recruit more experienced professionals and try to make Kabuki the No. 1 Japanese restaurant business in the world."
By Joo Hyun Yi