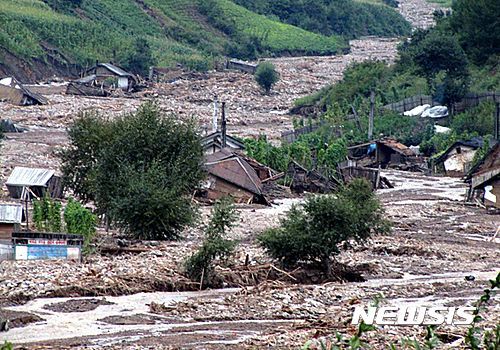 Numerous Korean community organizations are volunteering to help North Korean flood victims amid the U.N.'s plead to promote human rights in the hermit country.
Earlier this month, Typhoon Lionrock swept across six cities in North Hamgyong, the country's northernmost province, killing 138 while more than 400 people have been reported missing. About 17,000 households were completely destroyed by the typhoon, which has become the worst flood disaster in North Korea in the last 100 years.
Since then, five Korean community organizations have launched a campaign to offer a helping hand to the victims. Notably, Korean Buddhist group Jungto Organization began airing its fundraising campaign to support the victims via its JTS America website (www.jtsamerica.org). More information about contributing is available on the JTS America (201-224-3834) website.
"Even ethnic Koreans in China who are residing near border around the Tumen River are saying that people in North Korea have been hit harder by the typhoon," said Buddhist monk Bub Ryun, who is leading the Jungto Organization. "Winter is coming soon in North Korea. They're in dire need of rice, clothes, kitchen appliances, blankets, soaps and various medications."
6.15 Joint-Declaration Commission (714-334-5051), another organization centering on inter-Korea relations, is also conducting a campaign through its U.S. chaptor to help the victims in North Korea.
"The temperature during winter in North Hamgyong could drop down to negative 13 degrees," the organization said in a statement. "The inter-Korea relations is currently strained from a political standpoint, but we encourage the Korean people to help the citizens in North Korea who've been affected by the disaster."
The Korean American National Coordinating Council (KANCC) has also began a fundraiser through the U.N.'s World Food Programme (www.wfp.org).
"For the purpose of ensuring human rights in North Korea, I encourage the Korean community to help the people who've lost their homes," said KANCC president Gil-sang Yoon. U.N.'s special rapporteur Tomas Ojea Quintana added that the international community should "increase support for ongoing humanitarian efforts" in North Korea.
Action for One Korea (AOK), an advocacy group for reunification of the two Koreas, also began an organized effort to help the North Korean flood victims.
"Even though the relationship between North and South Korea remain frosty, helping the North Koreans at a human level may lead to better things," AOK president Yeon-jin Jeong said. "It is especially important for Koreans around the world to be more actively involved."
On the other hand, the Korean American Federation and the National Unification Advisory Council's L.A. chapter admitted that they are reluctant to support the efforts to help the North Korean victims amid the communist regime's pursuit of its nuclear program.
"It is painful to hear about the recent flood disaster in North Korea," said one of the organization's representatives, who wished to remain silent. "It is our wish that North Korea open itself up first to a dialogue and willingly accept the international community's help."
By Hyoung jae Kim