Around the area of Los Angeles, many American restaurants show the Korean food menus, which catch the popularity.
1. Veggie Grill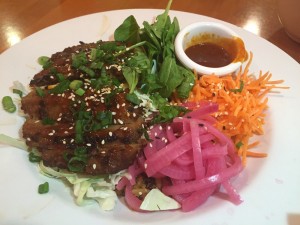 The Vegetable franchise restaurant 'Veggie Grill' presents a chief special menu, which is called 'Seoul Bowl'. 'Seoul Bowl' is made with quinoa unpolished rice mixed with red pepper paste. They use the toppings with salted onions and various vegetables. You can select one among chicken, tofu, vegetables, and steak. They focused on the health by showing up this chief special menu. The calorie of food is 570, which explains its popularity among women.
Location: 110 S Fairfax Ave, Los Angeles, CA 90036 
2. Umami Burger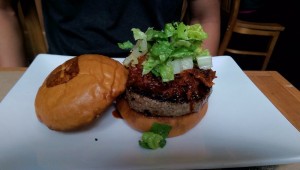 This restaurant, which is the representative hamburger franchise store in the Western area, serves 'K-BBQ burger'. 'K-BBQ burger' is made with red pepper paste, grilled kimchi, sesame oil and ketchup. Also, it contains green onion and cilantro, which are popular for many Koreans.
Location: 852 S Broadway, Los Angeles, CA 90015
3. Cheese Cake Factory
This place is one of the popular restaurants among Koreans. They have 'Korean Barbecue Spicy Chicken' on the menu. This sandwich is made with coleslaw added with Korean Spicy chicken seasoning.
Location: 189 The Grove Dr, Los Angeles, CA 90036
4. CPK (California Pizza Kitchen restaurants)
One of the primary menus at CPK is 'Korean Barbecue Pizza'. The vice-president of CPK who is Brain Sullivan said that Americans like spicy and sweet sauce so they made this pizza with carrots, napa cabbage, pear, Cilantro and yuja vinegar.
Location: 735 S Figueroa St #305, Los Angeles, CA 90017
5. Republique
Near Koreatown in Los Angeles, there is a French restaurant 'Republique'. You can find Kimchi fried rice at Republique, which does not look so fitting in this restaurant.  One person who works at 'Republique' restaurant said that it means a lot for them to provide unique flavor for multiple ethnic residents in LA. He added that they capture Angelino's taste by added Korean-style food as Kimchi and sesame oil into typical hamburger. Especially, taste and smell of red pepper and Kimchi are the unique point.
Location:  624 S La Brea Ave, Los Angeles, CA 90036
Original document available from http://www.koreadaily.com/news/read.asp?art_id=4206730
Translated by Daeun Jeong