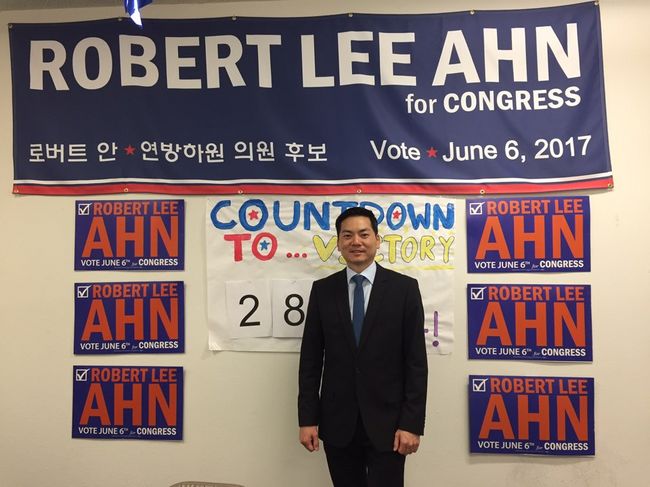 The race to represent California's 34th Congressional District is heating up. With just 26 days to go until the June 6 election, vote by mail ballots are arriving at voters' homes.
Ahn made it to the general election by a comfortable margin alongside rival Jimmy Gomez. The upcoming election marks the first time a Korean-American candidate is running for Congress in 19 years. Approximately 6,000 Korean-Americans casted their ballots in the primary election.
Granted, the number of eligible Korean-American voters still remain relatively low, although it has gone up in recent years. The rate of registered voters among Korean-Americans still at just 32 percent.
"Ahn could win if the voter turnout among Korean-Americans reach 60 percent," said David Meraz, Ahn's campaign manager. "The magic number for Ahn is 26,000 votes."
Voter registration remains open until May 22. At the booths during early voting on June 3 and 4, voter registration and election will be held simultaneously. Early voting will be held at the Pio-Pico Library and Fuente Running Center. On June 6, voter registration and election will also be held at the same time at the Norwalk election office.
"I'm not just asking Korean-Americans to vote for me because I'm Korean," said Ahn during the May 9 press conference. "The 34th Congressional District is a region of outsiders as it is home to many low income families, not just Korean-Americans. I'm going to be the politician who represents the isolated communities."
Ahn added: "The low income community mainly consists of seniors who are 65 or older. About 78 percent of the households in this district are renting their homes and are spending half of their money on rent. The housing problem must be solved urgently."
▶Inquiry for voting by mail: Robert Ahn camp (323-285-1246), Korean American Federation of L.A. (323-732-0192), Korean American Coalition(213-365-5999), Korean Resource Center (323-937-3718)
By Ina Chung