It is a well-known fact that glucose in sugar is necessary for learning and memory, which means that you can eat as many sweets as you want when you're studying (not really… but seriously). However, when you're stuck in a library consuming files of Hershey's and bottles of coffee, you may start to wonder the meaning of life.
For those of you who can never let go of foodie-ness even when studying, here are some cafes with great foods and drinks, as well as suitable ambiences for studying.
1. Spazio Caffe
1511 Montana Ave, Santa Monica, CA 90403

Located in Santa Monica, this trendy cafe features Italian drinks and pastries. Extensive hot chocolates and a variety of espresso drinks, such as agrumi, latte macchiato caramella or baciami, will be perfect fuel to make your brain working. Nutella croissant, which basically is a Nutella bomb, is worth trying too.
Many of the tables are for one or two people and they are placed with enough space from other tables, making the place perfect for studying.
2. Coffee Tomo
11309 Mississippi Ave, Los Angeles, CA 90025

Coffee Tomo, with right amount of light and noise, is an ideal study cafe. What makes this place even better is its food and coffee. Not only their Korean-inspired drinks, such as red bean latte or sweet potato latte, but regular coffee served here also tastes amazing. Twisted pretzels with sweet potato and mozzarella inside will fill your stomach when you get hungry while studying.
3. Funnel Mill
930 Broadway, Santa Monica, CA 90401

Funnel Mill is a quaint cafe located in Santa Monica. Slightly dark interior helps you to concentrate, not to mention that their no cell phone policy also does.
For coffee and tea lovers, this cafe offers a variety of rare coffees and teas to choose from. Take a sip of their original blended tea – it will give you some room to breathe when you need peace in mind.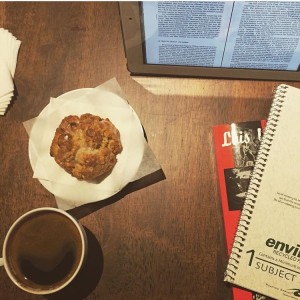 4. Bricks and Scones
403 N Larchmont Blvd, Los Angeles, CA 90004

On the upper level of Bricks and Scones, there are several communal tables that you can take some space for your study just as the way you do on library desks. There are individual desk lamps scattered around the place, so feel free to use some extra light for reading.
Cookie-like crispiness of scones served here also is amazing.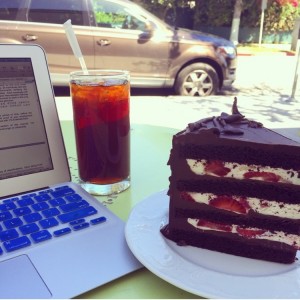 5. Sweet Lady Jane
8360 Melrose Ave, Los Angeles, CA 90069

Sweet Lady Jane is a cafe/bakery well-known for their decadent cakes. On one of those sunny days in SoCal, try sitting outside with a cup of iced coffee and a piece of guilty pleasure. It surely is the best way to study as your stress level is instantly balanced.
Written by Heewon Kim