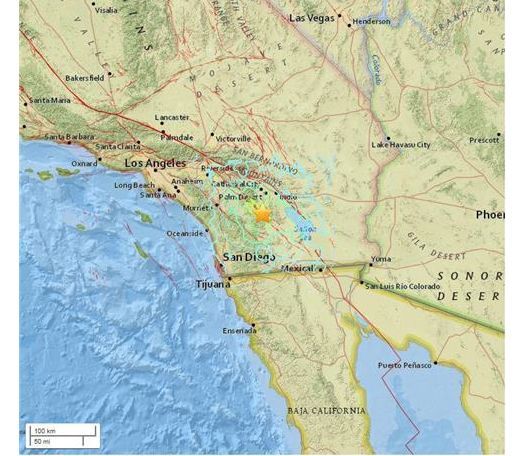 There was a 5.2-magnitude earthquake at 1AM tonight in Borrego Springs, located in the Southern California's San Diego County.
According to the USGS, because the earthquake had a 1km depth, which is relatively low, many areas in Southern California could felt it including Los Angeles and San Diego. There have been several aftershocks of 3.5, 3.0, and 2.8 magnitudes.
Mr. Jang Hyung-joon, a resident in Torrance said he woke up during the earthquake after he felt sudden vibrations lasting 3 to 4 seconds, and worried with his family while being unsure if they had to evacuate.
The press are reporting that there were several damages to a few properties including objects falling from the shelves in markets and houses, but reportedly that has been no damage of human life.
Original document available at http://www.koreadaily.com/news/read.asp?art_id=4343125
Translated by Audrey Joung