Tasty Grill for an "Edge" Dinner
Address: 301 S Western Ave #101, Los Angeles, CA 90020 

If you're into Korean bbq, you may have already met this guy – the grill with the little space on the edge for egg omelets. Although beef briskets and pork bellies are undeniably good, eggs on the edge are another treat that completes your K-bbq experience. At this newly opened restaurant in Koreatown, the grill with the "edge" is utilized for more variety!
Tasty Grill is a Korean grill restaurant located on the corner of 3rd Street and Western Avenue. Tasty Grill uses grills specially designed to have three divided rooms for each food. On the center of the grill, one of various Korean dishes, including tteokbokki, dakgalbi, and budae jjigae, is cooked while two of your choices among rolled egg omelets, sweet corn, and dipping cheese are either cooked or melted in the rooms separately prepared for them.
If the combination of three dishes is not various enough, you can add more variety by ordering extra proteins – beef brisket, pork belly, squid, sausage, and more – or carbs – udon, spaghetti, ramen, sweet potato, and rice cake.
While the restaurant seems to be specialized in spicy dishes, judging by its menu covered with red, non-spicy dishes are also available, including soy sauce chicken and other side items like bossam and jokbal.
Right now they're having a social media check-in event, offering free foam-topped "ttong beer" with check in.
Golden Pouch for Korean-Style Dim Sums
Address: 3324 W 6th St, Los Angeles, CA 90020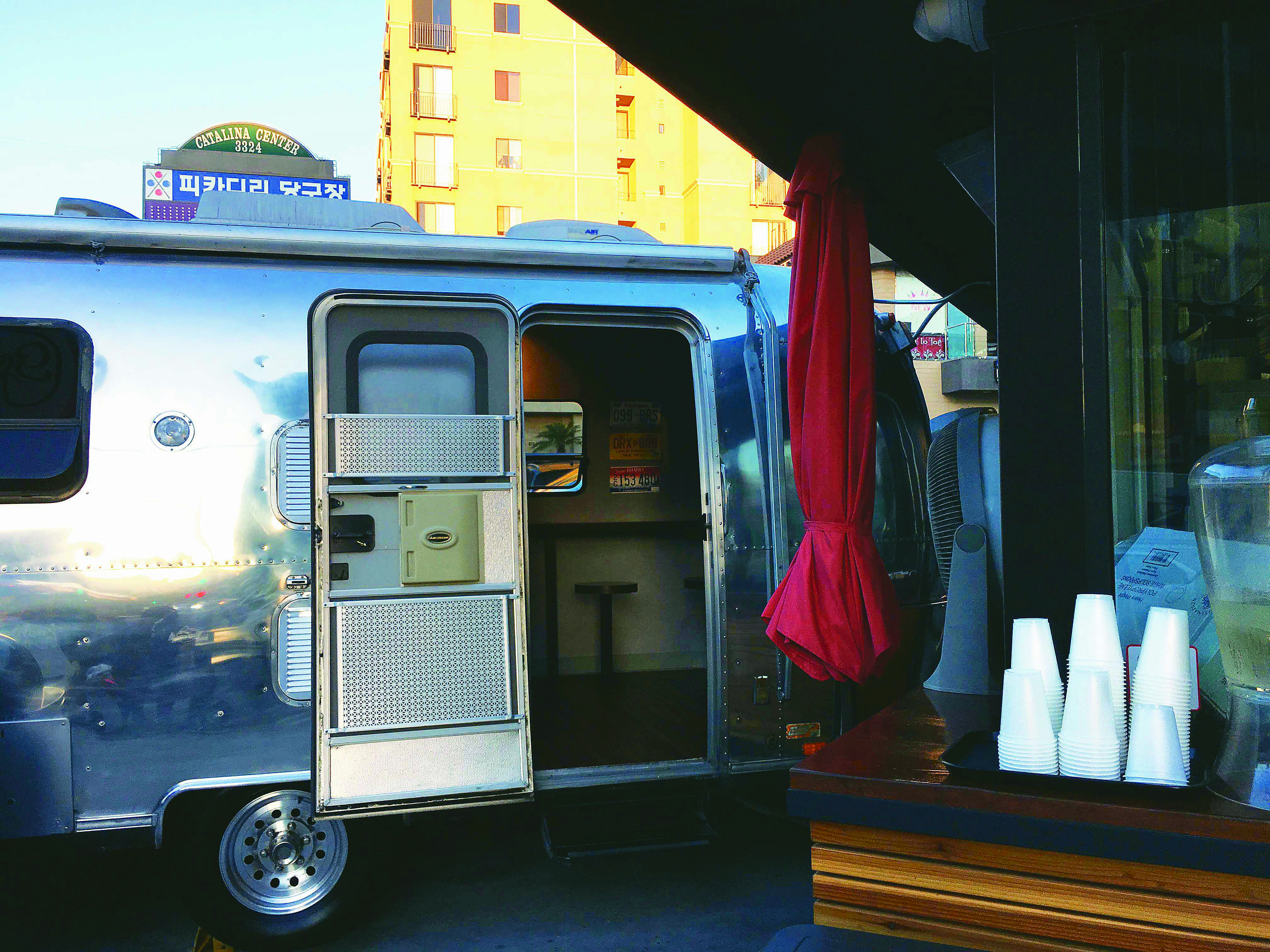 It's never fun to drive in heavy traffic – especially when you're taking your to go food home. Driving in notorious Los Angeles city traffic, the warmth of your food slowly fades away when you can do nothing but keeping your watery eyes on the road.
Koreatown residents don't have to suffer that pain anymore – at least when craving for juicy dim sum. Replacing Hollywood's IXLB Dim Sum Eats, Golden Pouch is now serving delectable dim sums on 6th and Catalina.
To add some K-Town vibes to their menu, Golden Pouch serves Korean-inspired dim sum, along with the classic Shrimp Shao Mai and Pork Xiao Long Bao. Bulgogi XLB and Japchae Gyoza are among the popular.
What grabbed my attention on the menu, however, was their selection of spicy items. As a natural-born spicy food lover, the three spicy dim sum dishes – Fiery Chicken Bun, Kimchi Shao Mai, and Sriracha Bulgogi Egg Roll – were more than appealing to me (A word of warning – the Fiery Chicken Bun here is not for the weak palate. "Fiery" has proven not to be an overstatement and that's coming from the mouth capable of finishing the notorious buldak bokkeum myun with no tear).
Golden Pouch is mainly for take-out customers, but dine-in space is also available in the small trailer-themed seating area located on the side, as well as two communal tables.
This fast food dim sum place stays open until 2 am on weekdays and 3 am on Fridays and Saturdays, offering a great late-night option as well.
Here's Looking at You for a Fine Fusion Dinner
Address: 3901 W 6th St, Los Angeles, CA 90020

The dining scene in Koreatown is growing diverse and Jonathan Whitener, former chef of Animal, is making sure of it by embracing fusion at his recently opened restaurant, Here's Looking at You.
Three months through its opening, Here's Looking at You is doing an impressive work not failing its customers' high expectations. Customers who paid visits witnessed Chef Whitener's ability to draw delectability out of rather unusual combinations, like nectarines served with Syrian feta and sumac or soft shell crabs with salsa verde and coriander.
Although located at the heart of Koreatown, it is hard to find any Korean influence on the menu, which is unlikely for a Koreatown restaurant (Even Fatburger on Wilshire and Vermont has a burger named after Koreatown). So if you order their "Heritage Pork Belly" or "Beef Tartare" expecting some nuances of pork belly or Yukhoe at Korean BBQ restaurants, you will be startled by what is served. Instead of adding Korean flavor to their menu, Here's Looking at You chooses to go beyond and inventively create new American fusion of their own.
Cocktails here at Here's Looking at You are additional elements that makes the place a new dining destination. Pair one or two of their nicely crafted cocktails, such as Tropical Medicine, a slush of Cutty Sark freshened up with lemon and ginger, with clever creations of Chef Whitener. Your dining experience in Koreatown will be more upgraded than ever.
By Heewon Kim