By Dongpil Kim
The author is chief editorial writer of The Korea Daily.
When I talk to my American-born and educated son, there's one topic I'm wary of discussing: race. Sometimes, my most objective comments come across as biased. In retrospect, I think these bumps in the road started when he was in middle school. It's embarrassing to think about it now, but when I told him about a new friend, I would ask him, "Is your new friend Korean?" If he said no, I would then mention another race. Though I made those comments without much thought, my son would respond sensitively, saying, "Are you racist?"
The Supreme Court ruled that Affirmative Action, a policy that favors minorities, was unconstitutional. The top court determined that it violates the Constitution's prohibition against "discrimination on the basis of race" when universities consider the race of applicants during the selection process for new students.
Chief Justice John G. Roberts, who voted in favor of the decision, wrote in the majority opinion, "The student must be treated based on his or her experiences as an individual – not on the basis of race." He stated that the Constitution forbids treating people differently based on their race. "The entire point of the Equal Protection Clause is that treating someone differently because of their skin color is not like treating them differently because they are from a city or from a suburb."
In a way, this ruling aligns with the ideology of "racial colorblindness" in American K-12 education. It's true that judging people by the color of their skin is a characteristic of racism. In a multiracial country like the United States, racism is akin to a poisonous mushroom. It goes against a fundamental principle of social organization.
However, there is a practical consideration. Proponents of abolishing Affirmative Action argue that the Supreme Court's ruling will level the playing field. But for a level playing field to exist, there must be an equal starting line. Fair competition becomes fiction when the starting line is different.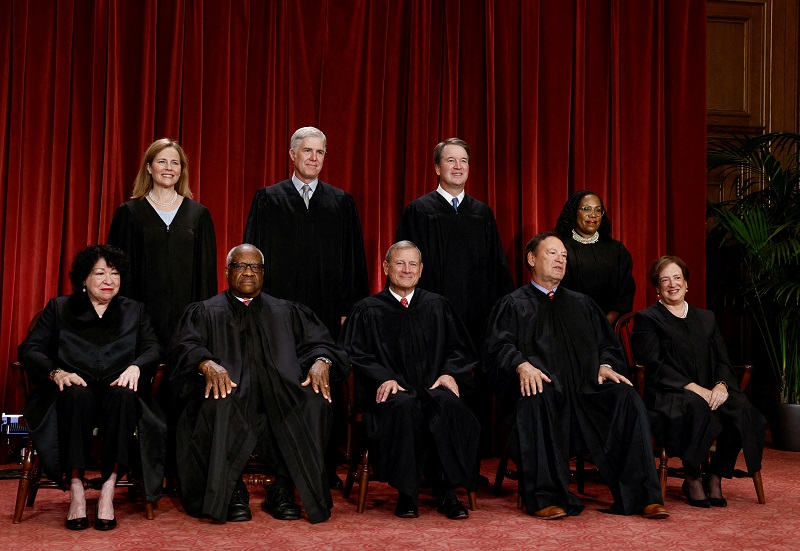 It's also unrealistic to expect everyone to have the same starting line. This is where the concept of Affirmative Action comes into play. During the civil rights movement in the 1960s, the disadvantaged position of blacks and other minorities was highlighted, and the implementation of Affirmative Action in 1978 became a reality. The purpose was to provide socially disadvantaged minorities with a head start. However, I wonder if minorities have reached a similar starting line with the majority in just one generation.
In fact, even Korean Americans, who have a relatively short immigration history, have benefited from Affirmative Action. That's why a majority of Korean Americans voted against Proposition 209 in California in 1996, which sought to repeal Affirmative Action. However, the results of Pew's latest survey are somewhat surprising. While 50 percent of Korean Americans favor Affirmative Action, 72 percent oppose "racial consideration" in the college admissions process. In just one generation, Korean Americans' views have changed dramatically. Or is it because they cannot compromise when it comes to their children's college admissions?
In California, Affirmative Action had already been abolished in 1996. However, it turns out that the end of Affirmative Action did not have a decisive impact on the UC admission rate of Asian students, as many Korean and other Asian parents feared. According to UC admissions data, Asians made up 35 percent of the UC freshman class in 1995, the year before the end of Affirmative Action. In 1998, after the end of Affirmative Action, the percentage of Asian freshmen increased by 3 percentage points to 38 percent. In recent years, the percentage of Asian freshmen at UC has hovered around 35 percent. However, black and Latino enrollment has significantly declined since the end of Affirmative Action.
The real concern lies in what happens next. Affirmative Action doesn't solely apply to college admissions. At this rate, we may witness the gradual disappearance of more policies for minorities in the name of "fair competition" and "equal rights."