When time don't allow you to go too far away from Los Angeles, how about visiting these perfect day-long escape destinations?
Fullerton Arboretum
Located on the northeast corner of the CSU, Fullerton campus, the Fullerton Arboretum and Botanic Garden is a 26-acre botanical garden with a collection of plants from around the world. With a collection of over 4,000 plants, the Arboretum saves species that are extinct or near extinction and serves as a learning place for agricultural history.
Dos Lagos Bamboo Bridge
If you get a chance to visit Dos Lagos, stop by at the Bamboo Bridge. This bamboo covered bridge connects two huge artificial lakes. During the night, the bridge is even more beautiful with the lights on.

Bunker Hill
Take the tiny little tram, "Angels Flight," from Hill St. and 4th St., which will take you to Bunker Hill. Bunker Hill is a neighborhood of Los Angeles where past and present coexist. Between Downtown Grand Ave. 1st St. and 4th St., Water Court, Omni hotel, Wells Fargo plaza, California Plaza, and Grand Market are located. Take some time to walk around the street and feel DTLA.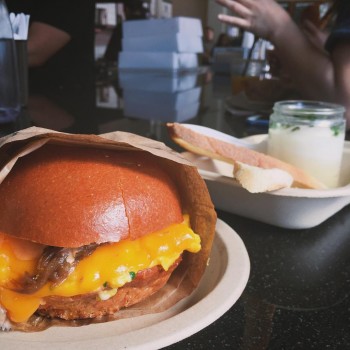 Grand Central Public Market
Located on Broadway and 3rd St., Grand Central Market is a marketplace where you can enjoy variety of food ranging from taco to pastrami sandwich. You can also have trendy breakfast sandwiched at Eggslut. Take a cup of gourmet coffee from GB and walk around the street to find Walt Disney Concert Hall and other nearby tourist attractions.
Art District
Art District is one of the trendiest neighborhoods in Downtown Los Angeles. Even though it looks shady with factories located on the streets, this Southeast section of DTLA, surprising to find, is walker-friendly. Walk from 2nd St. to 7th St. and Alameda St. to find artsy urban wall drawings and sculptures.
Original document available from www.koreadaily.com/news/read.asp?page=31&branch=NEWS&source=&category=lifenleisure.travelnhobby&art_id=3252709
Translated by Heewon Kim