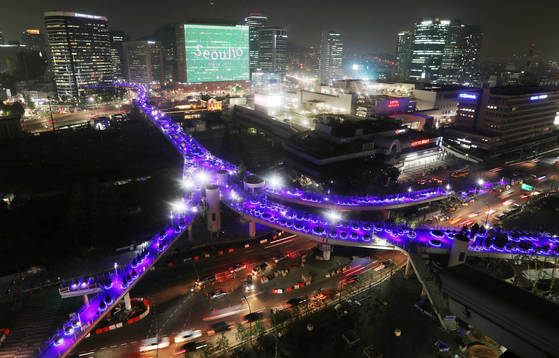 While cute coffee shops and chic restaurants sweep the Instagram feeds, this street in Seoul is rising as the hottest spot on Instagram this summer. Opened on May 20, Seoullo 7017 is the very first pedestrian overpass in Korea. Visitors to the revamped overpass in the heart of Seoul surpassed 35 million in the first three days of its opening.
On Instagram, there are 14,803 feeds uploaded with the hashtag '#Seoullo7017,' which is an impressive number regarding that for other trending businesses which usually ranges from 2,000 to 3,000.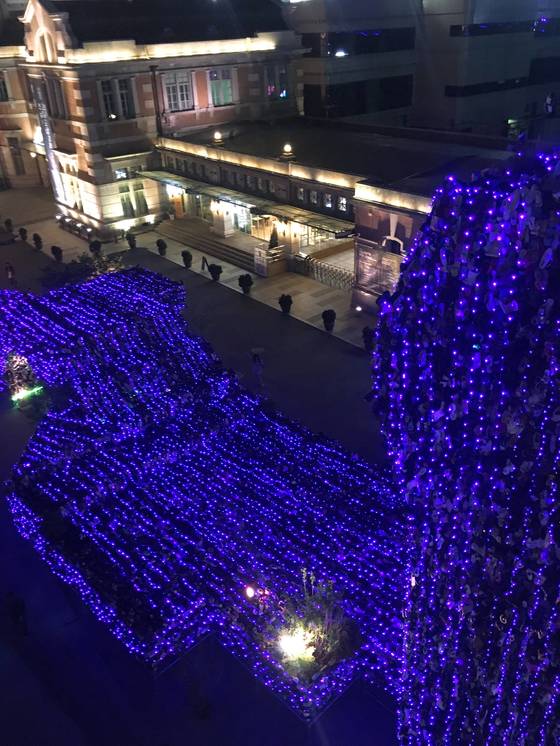 The highlight of a visit to Seoullo 7017 makes its appearance when the sun is gone. When it gets dark, the gigantic "Shoes Tree" and petite botanical gardens yield their places to blue lights. 111 light poles and 551 floor lamps emit blue light to create a special mood.
What makes Seoullo 7017 the best place to spot the night view in the city is the busy Seoul streets, which harmonize with hundreds of installed light on the overpass. On the observation deck located 56 ft above the ground, one can find the spectacular night view the old Seoul Station building, media art projected on Seoul Square Building, and headlights from the cars create.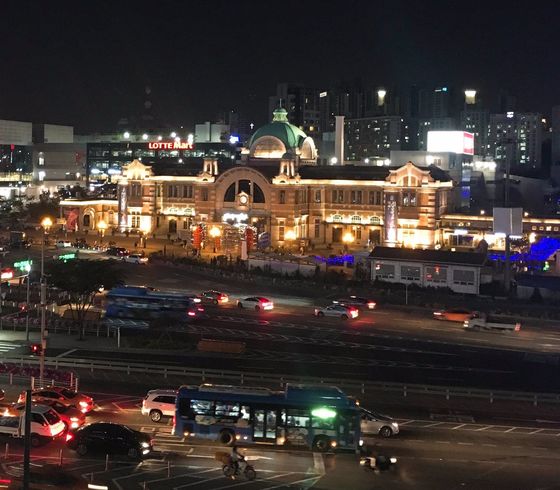 Although Seoullo 7017 is not the best place for a walk during the day without a shade, it makes the perfect urban walking trail by night when the city heat cools down.
Some also say that the real charm of Seoul's pedestrian overpass is in its food. The overpass connects 1024 meters between Hoehyeon Station and Manri-dong and various food vendors allocated along the way make sure that visitors don't walk on empty stomachs.
While food items on the overpass is focused on the snack food like kimbap and sandwiches, Seoullo Terrace and Hotel Manu, which are connected to the overpass at the end of the walkway, serve wider range of items.
Original article by Yoo Ji-yeon
Translated by Heewon Kim