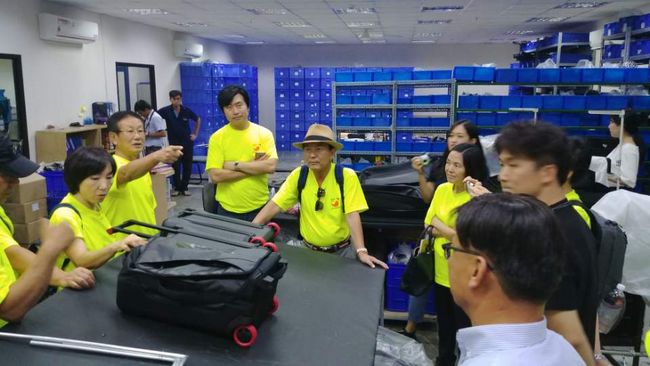 "Korean companies in L.A. could also grab better opportunities if you know about Vietnam, a rising manufacturing base and a consumer's market."
The Korea Daily has partnered with the Overseas Korean Traders Association L.A. (OKTA L.A.) to travel to Vietnam to report on the market in Vietnam as well as its manufacturing factories. Along with OKTA L.A.'s 20-odd members, the Korea Daily is currently on a six-night stay in Ho Chi Minh City and Hanoi to learn more about the Southeast Asian country's market.
"Labor has become expensive in China and it's also highly competitive and politically unstable," said OKTA L.A. chairwoman Jung-sook Lim. "Most of our members are either working in trade or manufacturing. We're visiting Vietnam to seek new opportunities for them."
After visiting KOTRA Vietnam on Oct. 24, OKTA L.A. was able to learn about the current status of the economy in the country.
"The size of Vietnam's commerce is growing rapidly by 10 percent every year," said Chan-young Kim, KOTRA's investment advisor. "The international economy already perceives Vietnam as the second China and investments here are getting larger."
South Korea, in particular, is making more investments in Vietnam than any other country by far. Last year alone, $48.5 billion was invested in Vietnam from South Korean companies. The Americans have also invested $10 billion. More than half of the total investments have been made in manufacturing businesses.
"The monthly wage in Vietnam is still low at just $200 to $300 even though the quality of education here is relatively high," said Kim. "The Vietnamese people are also skilled, so they've got all the prerequisites for more investments. Although clothing businesses are now leaving Vietnam for Cambodia and Laos, Vietnam is the place for skilled labor."
The OKTA L.A. members also visited a luggage manufacturing company Trimmers, a company operated by OKTA Vietnam members.
"Many Koreans believe that Vietnam is a place where labor and products are both cheap," said an employee at Trimmers. "Vietnam is a rapidly growing country. However, it does have poor infrastructure, including insufficient roads and more. Investors will have to be considerate."
The OKTA L.A. members expressed interest in the Vietnamese market.
"I think it's good that we're visiting Vietnam," said OKTA L.A. director Ki-min Cha. "I was able to see firsthand how high Vietnam's potential is. Korean companies in L.A. could also grab better opportunities if they continue to monitor Vietnam with interest."
By Hyunwoo Kim