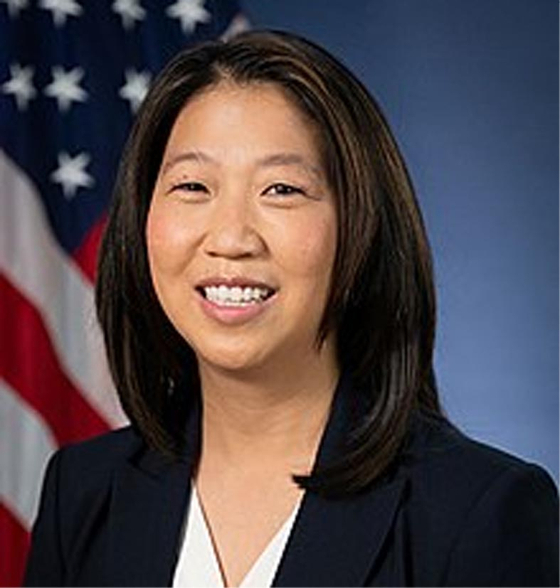 U.S. Senate appointed their first Korean judge on the third Circuit Court of Appeals.
On the 13th, U.S. Senate confirmed Cindy Chung(47), the top federal prosecutor of the Western District Prosecutors' Office of Pennsylvania, as a judge of the 3rd Federal Circuit Court of Appeals (50 votes in favor, 44 votes against).
It is the first time in history that a Korean woman has become a judge at the Third Federal Circuit Court of Appeals in Philadelphia. The court has jurisdiction over Pennsylvania, New Jersey, Delaware, and Virgin Islands.
President Biden, who nominated Chung in July last year, celebrated the Senate's 100th Judicial Confirmation of a federal judge that he nominated since taking office on the 14th, stressing that diversity of the judiciary has tremendously improved.
"Yesterday, the Senate confirmed Cindy Chung to the U.S. Court of Appeals for the Third Circuit," Biden said. "I'm especially proud that the nominees I have put forward — and the Senate has confirmed — represent the diversity that is one of our best assets as a nation, and that our shared work has broken so many barriers in just 2 years."
Senate Majority Leader Chuck Schumer said, "Judge Chung has been fighting hate crimes for a long time," adding that she is "precisely the kind of person we want on the federal bench."
Judge Chung graduated from Yale University (1997) and received a doctorate in law (2002) from Columbia University. Since then, she served as a trial prosecutor in the criminal case division of the Ministry of Justice's Human Rights Bureau since 2009 after serving as an Alabama trial researcher and a New York state prosecutor.
Judge Chung also spoke at a Korean American Day event held in Philadelphia in January last year. At the event, she said "Thank you to my grandfather who worked as a prosecutor in Korea, I am also walking your path," adding, "I am proud to be the first Korean woman to be a prosecutor in Pennsylvania, where my parents lived when they first came to the United States.
BY JANG YEOL [jang.yeol@koreadaily.com]