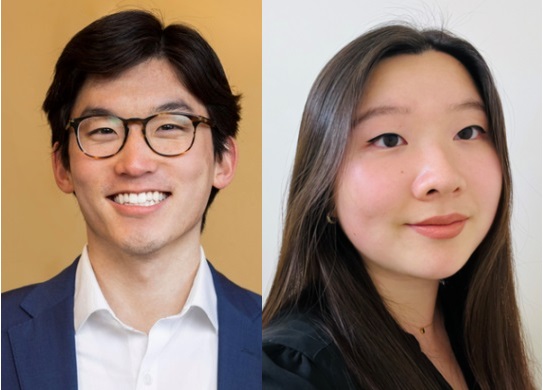 Two Korean American students at Harvard University have been named Rhodes Scholars, one of the highest honors for elite American university students.
Benjamin Chang of Irvine and Isabella B. Cho of Illinois are among the 32 recipients of the honor for the year 2023, according to the Rhodes Scholarships.
Benjamin Chang
A junior at Harvard, Chang studies chemical and physical biology and computer science. He has worked on designing genetic circuits for mammalian applications and runs OpenBio, a student-run laboratory focused on making biological research more accessible. He has been involved with the Asian American Association at Harvard University and the Y2Y Harvard Square Youth homeless shelter in Cambridge. In 2020, he worked on Biden's presidential campaign and founded the Student Astronomers at Harvard-Radcliffe. Chang will study engineering sciences at Oxford to advance machine learning for synthetic biology.
Isabella B. Cho
Isabella B. Cho, a senior studying English, is also a poet, journalist, and member of the news staff of the Harvard Crimson, the school newspaper. She is a recipient of the Mellon Mays Undergraduate Fellowship and was selected as a 2020 Presidential Scholar. She was also named a Yun Family Research Fellows Fund for Revolutionary Thinking and a finalist for a Mark of Excellence Award from the Society of Professional Journalists. At Oxford, Cho will study education with a focus on higher education.
Established in 1902, the Rhodes Scholarship Program provides scholars with tuition and living expenses at Oxford for two to three years. During this time, students can study and graduate from any of the university's Graduate Schools and receive an Oxford undergraduate diploma if they wish. Rhodes Scholarship recipients include former President Bill Clinton and former British Prime Minister Tony Blair. In 2018, Korean American Jin Kyu Park, a recipient of the Deferred Action for Childhood Arrivals (DACA) program, made headlines when he was selected as a Rhodes Scholarship recipient.
BY NICOLE CHANG, JUNHAN PARK    [chang.nicole@koreadaily.com]