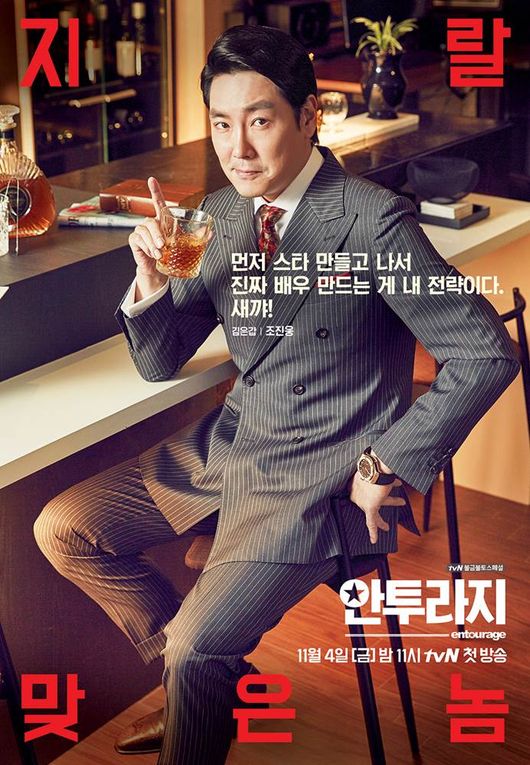 tvN's 'Entourage', which will be first released on November 4th (Friday) at 11 PM with its first episode, is a drama that portrays lives of people in the Korean entertainment industry. The drama's cast includes Youngbin (played by Seo Kang-jun), who is a new and hot actor, his friends Hojin (Park Jung-min), Joon (Lee Gwang-soo), Geobook (Lee Dong-hui), and the CEO of his management company, Eungab (Cho Jin-woong). It is expected that these five unique characters will show great performances in the re-make drama.
First, Cho Jin-woong plays 'Kim Eun-gab', who is the CEO of a huge management company that works with the hottest celebrities including Cha Young-bin. Kim starts off as a normal manager, and he rises up to the CEO position with his own business strategies. Although he is short-tempered and curses about almost everything, he is actually loyal and warm-hearted person. Even in the released poster, he says, "It is my strategy to first make one a 'star', and then a 'real actor'."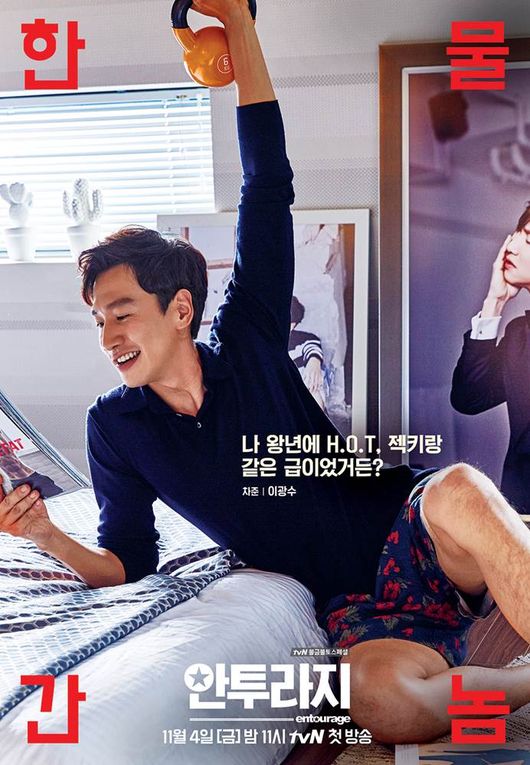 Seo Gang-jun plays 'Cha Young-bin' who is a star that is getting the most amount of attention in Korea. With his radiant looks, rebellious eyes, and naive smile, he is the hottest actor among many actors. In the poster, he says, "You have to enjoy the life as best as you can. That even helps acting!".
Lee Gwang-soo, on the other hand, plays 'Cha Joon', who's had his day after the late-90th debut as a temporarily popular star. Cha Joon still argues that he has been always popular since he was a member of the previous idol group, 'Sugar Boys'. In his character poster, he says, "I was once the same level as H.O.T and Sechs Kies.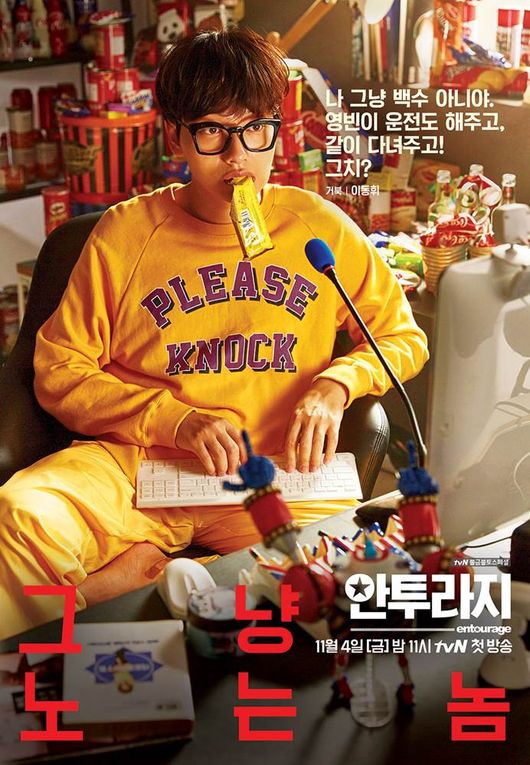 Lee Dong-hui plays 'Geobook', who is the 'cute' one in their friends group. Geobook adapts to latest trends very quickly because of his excellent searching skills and he is the cute and funny friend in their crew, but he is very bad with women. In the poster, he says, "I'm not just a typical jobless person. I drive for Youngbin, and I hang around with him! Right?"
The new tvN drama 'Entourage' will be aired for the first time on upcoming November 4th, Friday at 11 PM and every Friday and Saturday since then.
Original article available at http://www.koreadaily.com/news/read.asp?art_id=4675197
Translated by Audrey Joung