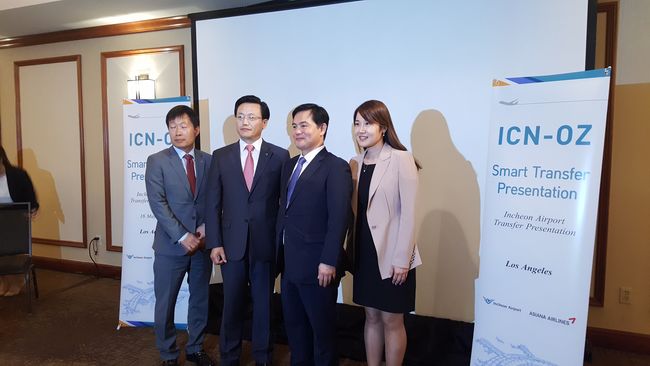 Airline passengers getting on transfer flights at Incheon International Airport in South Korea will start saving considerable amount of time starting early next year at the latest.
Both Asiana Airlines and Incheon International Airport's management team co-hosted the "Smart Transfer Introduction Seminar" on May 16 at Downtown L.A.'s Westin Bonaventure Hotel. Travel agencies and media members from Korean, Chinese, Vietnamese and Filipino communities attended the event.
"Incheon Airport won first place for 12 years straight in Airports Council International's airport rankings," said Won-seok Park, Incheon Airport's marketing director. "We'll be finishing construction for a second terminal by the end of this year. For our passengers' convenience, entry, custom and transfer processes will be minimized, while they will be able to enjoy shopping, shower and massage services at the airport."
Park added: "Once the second terminal is completed, Korean Air will begin using the newly-built terminal, while the first terminal will be used by Asiana and other Star Alliance airlines. Passengers getting on Asiana's transfer flights will be able to streamline their wait time by 45 to 70 minutes. The passengers will also be able to experience a Korean tradition or K-pop tour as they wait."
The transfer passengers will also be able to rest or play casino games at the Paradise City Resort, located only three minutes away from the airport by car.
Incheon Airport airline department chief Yerim Kim explained that transfer passengers will be able to use the airport lounge at a 40 percent discount—from $39 to $24—on the fourth floor of the No. 1 terminal. Kim added that the upcoming change was partly inspired by the Winter Olympics in Pyeongchang in February.
"Our airline ranked first in customer satisfaction for three years straight," said Yibae Kim, Asiana Airline's U.S. branch chief. "By offering the A350 aircraft followed by the A380, we will provide our transfer passengers with the fastest and most convenient services to our passengers in 50 different locations in the U.S. and Southeast Asia."
By Moonho Kim