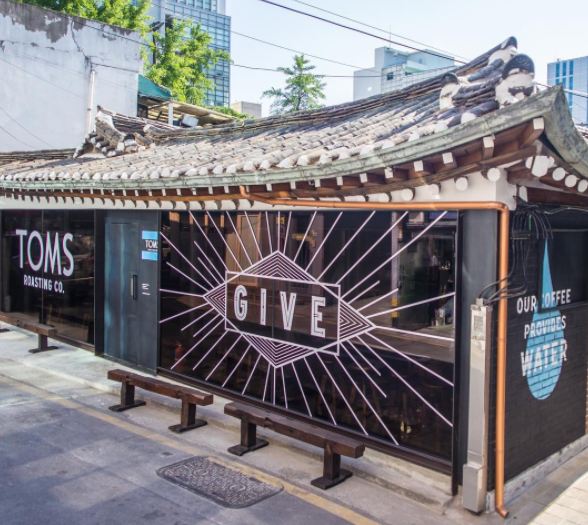 Following its first Asian flagship store in Hanam City in Korea, Toms Roasting Co has opened the first official store in Korea near Gwanghwamoon in Seoul.
Suited especially in a remodeled hanok in Jongno, Seoul, Asia's first Toms Roasting Co store serves various espresso drinks brewed using Toms' fair-trade beans. Carrying out Toms' philosophy of "One for One," every coffee consumed here will provide water for those in need.
Its building, too, carries a special meaning that coincides with the corporate philosophy. Instead of a new building, Toms Roasting Co chose an old hanok in Jongno and remodeled it using recycled materials. As a result, the old traditional house of Korea is revamped into a stylish space which houses traditional vibes and modernity at the same time.
While Café Momiji, a coffee drink made with added milk and black tea, stays as the signature item from the coffee shop, other single origin selections are solid as well, not to mention some quality baked goods like Blue Dot Brownie.
In addition to coffee and bakery items, Toms Roasting Co apparels are also available, which will provide a week-long supply of water for those without per purchase.
By Heewon Kim