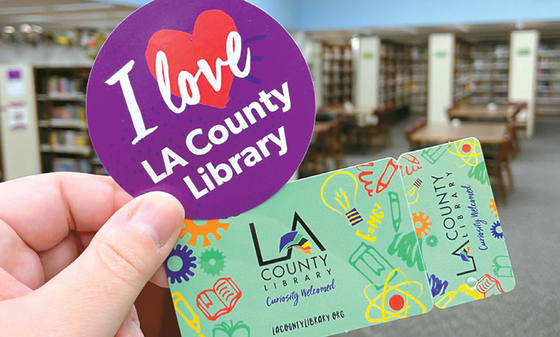 In the past week, 38-year-old Jia Lee from La Crescenta has spent $0 while using e-books, streaming videos, visiting the museum, going on trips to state parks, reading comic books, renting a mini iPad, and using exercise apps.
"I used my L.A. County Library card to save $15 on admission to Crystal Cove State Park near Newport Beach (for one vehicle) and $14 on admission for two kids to the Natural History Museum," said Lee, who also uses Verizon's Peloton app to access free workout classes and watch Disney Plus content.
The cost of living has skyrocketed as inflation peaked last year in 40 years.
Amid fears of an economic slowdown, many people are looking for ways to cut back on spending, but there are plenty of freebies you can get just by using your library card, cell phone, or credit card.
One of the easiest ways to get freebies is with your local library card, whether it's the Los Angeles County Library or the Los Angeles Public Library (LAPL). With a membership card, you get access to museums, movie streams, audiobooks, foreign language lessons, and more.
Benefits for certain libraries may vary, but most will offer free e-books, audiobooks, movies, educational apps, and more.
You can download library e-books to your Amazon Kindle or download the Libby app to read e-books for free. More than 25,000 comic books, including the Marvel series, are also free.
"I borrowed a virtual reality (VR) headset for free from my local library so my kids could play games and experience Machu Picchu or Antarctica with National Geographic," said an Altadena resident Min Ah Kim, 41.
Through LAPL and L.A. County Library's Discover & Go program, cardholders must book online three months in advance to access museums and attractions for free. Participating museums include the Broad Museum, La Brea Tar Pits, the LA Zoo, the Natural History Museum of Los Angeles, and the Motion Picture Academy Museum.
Most popular services throughout the pandemic have been Chromebooks, mobile Wi-Fi hotspots, iPad minis, and laptop rentals. Through the "Tech Giveaway" program, adult members are able to access these services for free for six months.
Some credit card users can also take advantage of elite perks from car rental companies. These include the American Express Platinum Card, Capital One Venture X Rewards Credit Card, Chase Sapphire Reserve, United Club Infinite Card, and United MileagePlus Presidential Plus Card.
For example, American Express Platinum cardmembers can upgrade their vehicles at no additional cost with Hertz.
Verizon Mobile and 5G Home and LTE Home customers can use the Peloton app for free for four months through Plus Beta. Verizon and T-Mobile are also offering free streaming subscriptions depending on the user's data plan. Contents include HBO Max, YouTube Premium, Netflix, Apple TV, Disney Plus, Paramount Plus, Hulu, ESPN Plus, and more, with monthly subscription savings ranging from $7 to $34.
With the skyrocketing cost of eating out, 17 fast food restaurants, including Starbucks, Burger King, California Pizza Kitchen, Panera, Chipotle, and McDonald's, offer free food and drinks when you install their apps. Burger King offers free burgers like the Whopper with your first purchase of $3 or more after downloading the app. McDonald's has a similar offer as well.
BY EUNYOUNG LEE [support@koreadaily.com]