Good morning! It's Monday, May 1, and I'm Mooyoung Lee, a reporter for Katchup Briefing, the Korea Daily's English weekly newsletter service. In Issue 5 of Katchup Briefing, I will be reviewing the "Washington Declaration," which was adopted by South Korean President Yoon Suk Yeol and U.S. President Joe Biden after their bilateral summit on April 26. The declaration aims to enhance extended deterrence, or the U.S. nuclear umbrella, to defend South Korea against North Korea's nuclear threats, and in exchange, South Korea has given up its own nuclear development. While the declaration is significant, its reliability remains to be seen.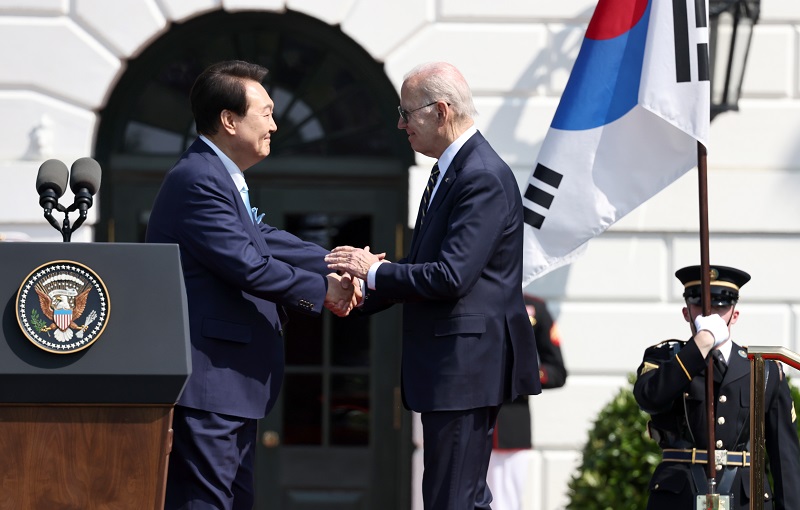 South Korean President Yoon Suk Yeol and U.S. President Joe Biden adopted the "Washington Declaration" to strengthen extended deterrence against North Korea's nuclear and missile threats during their bilateral summit at the White House in Washington D.C. on April 26.
Extended deterrence refers to the U.S. commitment to mobilizing all of its military capabilities, including nuclear, to defend its ally.
The declaration is the first separate narrative on nuclear deterrence in 70 years of the alliance.
"Our two countries have agreed to immediate bilateral presidential consultations in the event of North Korea's nuclear attack," Yoon said at the joint press conference after the summit, "and promised to respond swiftly, overwhelmingly and decisively using the full force of the alliance, including U.S. nuclear weapons."
Biden warned that a "nuclear attack by North Korea" against the United States or its allies is "unacceptable and will result in the end of whatever regime, were it to take such an action."
The keystones are the establishment of a joint Nuclear Consultative Group (NCG) modeled after the NATO Nuclear Planning Group, regular deployment of U.S. strategic assets like nuclear-armed submarines and strategic bombers to South Korea.
Through the NCG, the allies will share information on nuclear and strategic operations and planning and hold regular discussions on how to plan and execute joint operations combining South Korea's cutting-edge conventional capabilities with U.S. nuclear capabilities. The results will be reported to the two countries' leaders.
In return, South Korea promised its recommitment to the Non-Proliferation Treaty obligations.
South Korea gave up its own nuclear development in exchange for the U.S. nuclear umbrella promise.
The declaration is a practical compromise between Seoul and Washington over the deepening security threat from the nuclear and missile capabilities of North Korea and the two allies' response to rapid changes in international geopolitics and security environments.
While noting that he has the sole authority as commander-in-chief to use nuclear weapons, Biden said that the declaration means that "we're going make every effort to consult with our allies when it's appropriate if any actions are so called for."
Biden added that the United States is "not going to be stationing nuclear weapons" on the Korean Peninsula but plans to have port visits for nuclear submarines.  
Many in South Korea had wondered if the United States would really come to defend Seoul when New York or Washington could be threatened by North Korea's ICBM attacks.
There are already different interpretations on the declaration.
In explaining the summit's outcome, the South Korean government focused on the interpretation that the Washington Declaration has the effect of de facto nuclear sharing. "Our people will feel like they are living in a de facto nuclear sharing arrangement with the United States," said Kim Tae-hyo, the first deputy national security advisor of South Korea.
Edgard Kagan, senior director for East Asia and Oceania at the White House National Security Council (NSC), refuted this interpretation, saying "I'll just be very blunt. We don't see it [the Washington Declaration] as an effective nuclear sharing arrangement."
Furthermore, what if a new U.S. president annuls the declaration? Actually, former U.S. President Donald Trump pushed for the withdrawal of U.S. forces stationed in South Korea.
To earn trust in its nuclear umbrella, the United States will have strategic assets like nuclear-powered aircraft carriers and submarines regularly visit Korea and the surrounding area. Military drills and simulation activities will help raise defense capabilities further to deter North Korea's provocations.
Although enhanced deterrence is meaningful, it remains to be seen if it is really reliable. Follow-up actions on the working level are needed to confirm the agreements. The two governments must continue joint military drills so that the declaration does not simply end with a declaration.
BY MOOYOUNG LEE   [lee.mooyoung@koreadaily.com]