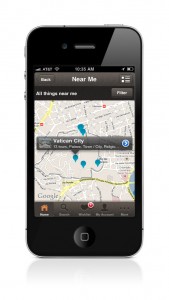 A new app that has been launched recently is provoking a lot of interest among the smart phone user community in Los Angeles. Go LA is an app from Lyft, Xerox and the city of Los Angeles. This app gives real time traffic information for all transportation methods. It gives information on Metro, Buses, and other public transportation as well as provides real time traffic information on freeways, city streets and bike roads.
The Go LA app differs from other map apps in that this app solely focuses on the city of Los Angeles. It has almost all features of other apps including the fastest route and cost estimation. Moreover, it is special in that users can find the "greenest" way around such as walking, renting a Zipcar, or car sharing.
The Mayor of Los Angeles Eric Garcetti proclaimed the app providing "the fastest, most convenient, and affordable smart information." The app will continue to further upgrade its functions to add features such as parking information. The app is available for I phones and Androids as well. You can find out more information on its website www.golaapp.com.
The original document can be found at http://www.koreadaily.com/news/read.asp?art_id=3993379
Edited by Sooahn Ko