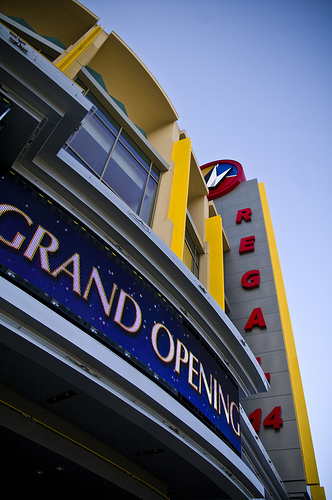 The Regal L.A. Live movie theater is to reborn as an innovative high-tech theater through the partnership with Barco, a Belgian cinema innovator. This new theater will feature laser projectors, advanced sound and a new immersive three-screen system.
Along with the effort to improve movie-going experience by employing new technology, L.A. Live is also planning on digital display in the lobby area, which will offer opportunities to interact with visitors through smartphone application. Such interaction is expected to make audiences visit the theater again.
AEG's investment on this new theater is expected to be the way out of recent stagnation due to increased competition with other entertainment media.
L.A. Live's employment of 4DX technology also was found popular among audiences. 4D technology presented by CJ Group combines moving and vibrating seats with wind, for, and rain.
L.A. Live and Barco is to hold an event to open the remodeled theater system to public.
Original document available from www.koreadaily.com/news/read.asp?page=2&branch=NEWS&source=&category=lifenleisure.general&art_id=4108542
Translated by Heewon Kim