Some students are blessed with being able to study wherever and however, be it outside on the lawn, during the middle of a party, or at a responsible, well-managed pace. For everyone else, there's just gotta be the right time, place, and mood to get in the study spirit. But uh oh! Is Starbucks totally packed? An ex-best friend occupying that favorite space in the library? Don't worry, Koreatown has some totally comfortable and late-night spots to get that studying done.
Tom N Toms Wilshire
Tom N Toms is a Korean cafe chain expanding quickly in the US with at least eight locations in Ktown alone. What makes this one special, however, is its hours, always free parking, and ample power outlets. Bring a study group to reserve one of the rooms, too; the signs say you'll need at least four people, but you could probably manage with three! If it's not too cold, there are plenty of chairs and tables outside as well. Feel free to come to this cafe not only to study 'til the wee hours of the night and next morning, but even to grab a reasonably priced cup of coffee and a warm snack after a long night out.
Info
Address : 3240 Wilshire Blvd #102, Los Angeles, CA 90010
Hours: Open 24/7
Private lot and street parking
Coffee House Heyri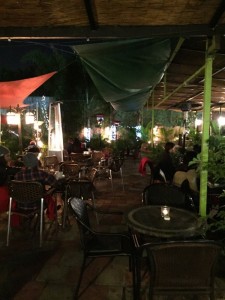 Heyri has the comfortable atmosphere of a home, which may be because of its actual house exterior. Pull up to the driveway (bring some cash for your valet!) and come into this cafe hungry, because they've got more than just coffee and tea on the menu; Heyri is also well known as a dinner and shaved ice spot. People often talk about their omurice, a portmanteau of "omelette" and "rice", which is piping-hot fried rice blanketed in a light, fluffy omelette. Be sure to get some refreshing bingsoo next, which is a variety of fruits layered atop a ball of snow. Feeling a little cold? The waiters and waitresses can provide you with a blanket for your lap while you get your studying and grubbing on! Many of the patrons at this cafe are here to talk, though, so don't forget your headphones if you decide to visit, or just enjoy the lively chatter and Korean pop hits that make Heyri so cozy.
Info
Address : 755 S Hobart Blvd, Los Angeles, CA 90005
Hours: 10:00 a.m. to 2:00 a.m.
Private lot (valet until late evening) and street parking
Cafe Mak
Warm lighting, good coffee, and the most "cafe-like" of the three cafes listed, Cafe Mak is a wonderful place to eat, chill, and study. If parking runs out behind the cafe, there is usually plenty of parking across the street. With the most outlets and space to really stretch out all of your study items, it's a cafe that could easily become your go-to scene. There's no excuse to not get your work done since there is such a variety of space: outside in the almost foreign facade of the patio between the many heaters, in the "library" area with vintage furniture, or in the well-lit hall with plenty of chairs. Bring some friends to play some of the board games during your breaks, and don't forget to get a slice of their dense but not-too-sweet sweet potato cake with a fresh pot of tea.
Info
Address : 612 Shatto Pl, Los Angeles, CA 90005
Hours: 10:00 a.m. to 2:00 a.m.
Private lot (might get packed during dinner) and lots of street parking
By Nicole Destura