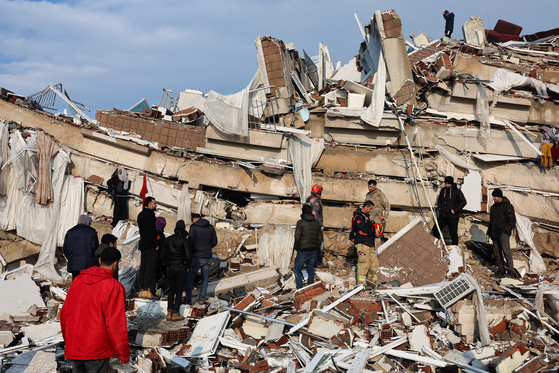 With the death toll exceeding 20,000 in the earthquake that hit Turkey and Syria, the Korean community has started to raise funds to help relief efforts.
In the Anaheim area, Silk Wave Mission (CEO Jinyoung Kim), a Turkey-specialized ministry organization, is receiving donations online (silkwavemission.com) or by phone (714-999-8639).
"There are about 100 missionaries currently active in the region, and they all speak of total chaos," said Lee Se-woong, general secretary of Silk Wave Mission. "We are collecting donations because it takes too long to blankets and other relief goods here."
Immediately after the earthquake, Silk Wave Mission also sent an official letter to more than 30 Korean churches, including New Life Church, New Vision Church, Bethel Church, ANC Onnuri Church, Disciple Church, Inland Church, Cerritos Mission Church, and Community Church of Seattle.
In Grace Ministries International (Chief Pastor Han Ki-hong) in Fullerton, a special donation time is scheduled during the Sunday service on the 12th.
Pastor Han Ki-hong said, "There are missionaries dispatched from our church in Turkey, and we are receiving real-time news on the situation," adding, "We are planning to continue informing the church members of what is happening and collect donations during Sunday worship."
Non-profit organization Good Neighbors (844-357-7797) and Korea Times (323-692-2142) are also collecting donations to help residents affected by the earthquake.
Kim Jae-hak, the head of Good Neighbors' headquarters, said, "Good Neighbors Korea has already dispatched an emergency relief team from Korea, and we are collecting donations to send to Turkey here in the states," adding, "The emergency relief team will provide local supplies such as food, drinking water, sanitary supplies, sleeping bags, and tents."
On the other hand, The Korean American Federation of Los Angeles (KFLA) is temporarily holding off on fundraising.
James Ahn, chairman of KFLA, said, "There are many inquiries about donations from Koreans, but we have not yet decided on a designated organization for sponsorship," adding, "We are still searching for the right organization."
Meanwhile, U.S. Christian aid organizations such as Samaritan's Purse (samaritanspurse.org), UNICEF USA (unicefusa.org), and Doctors Without Borders (doctorswithoutborders.org) are also receiving donations through their websites.
BY JANG YEOL [jang.yeol@koreadaily.com]