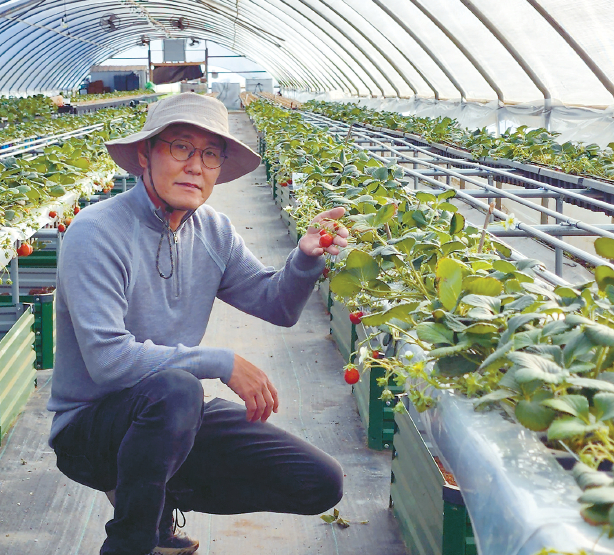 For the past three years, he has lived on the ground. When everything was uncertain in the unprecedented world, he believed that only the ground and sweat were certain. Not many people understood the story of a Korean IT company executive with a Ph.D. in business administration at Seoul National University becoming a strawberry farmer in LA. The land was honest but cruel. But finally, he got the fruits of 'first'. He has obtained a seed patent for Korean varieties for the first time in the U.S., and is on the verge of a pilot sale that will open the era of "K-Berry" by sowing and harvesting Korean strawberries for the first time in the U.S. with a different climate. For the first interview in the new year, introducing Dr. Moon Jong-beom (51), the founder of the Korean strawberry brand "Doctor Moon Produce." In 2023, when it is difficult to see ahead, go back to the soil and find the answer.
"Why don't American strawberries taste good?"
Laguna Beach Beach Restaurant in August 13, 2019. A complaint from an acquaintance who had strawberries served as dessert after a meal was the beginning of everything. Another acquaintance who visited from Korea received a message. "I heard you developed a delicious variety of strawberries in my hometown Jinju, and if you raise it here, it will probably be a big hit."
Since that day, the conversation has been going on in my head. And four months later, in December, the world stopped.
It was the moment when Dr. Moon Jong-beom, who lived as a digital nomad between Korea and the United States as the head of the global business division of WiseWire, Korea's No. 1 software test industry, jumped into the world of "strawberry farm."
"The world right now is a 'brand' fight in any field. I used to see where it was made, but now it's not a place, but the brand itself is money and power. I was convinced that if I had the idea of creating a great brand like Apple, and good seeds, I could brand agricultural products as well."
The source of confidence lies in the path you have walked. He graduated from Boston University and earned a doctorate in business administration from Seoul National University. In 2007, he became a professor at Konkuk University at the young age of 35 and served as a teacher for 11 years. In 2018, he left school and accepted WiseWires' scout offer. Everyone convinced him otherwise, but new challenges and implementations were like his DNA.
After the decision was made, implementation was natural. A definite idea gathers people. In January 2020, He visited Lassen Canyon Nerseori in Reading, Bukga Province, the largest strawberry farm in the United States.
"I asked him to raise me here because I will go to Korea and get some export agreements." Korean strawberries, which have high sugar content, have been persistently hung on for their high commercial value in the U.S., and I got a promise to try them.
A good seed he chose was a variety called 'Geumsil'. Currently, 80% of Korean strawberries are a variety called Seolhyang. What was developed next is Maehyang, and the new breed that hybridizes the two is Geumsil.
"The average sugar content of Seolhyang is about 10.4 Bricks, but the gold thread is much sweeter than 12 Bricks." And it has a strong hardness, so the texture is good and it's not squishy, so it's the best product to distribute in a wide area like the United States."
He signed an export agreement with South Gyeongsang Province, his developer, and brought 10 seedlings to the U.S. The U.S. Department of Agriculture has registered the first Korean strawberry and the second seed patent after Yotoboshi, a Japanese strawberry, among all foreign strawberries.
Then, he jumped into cultivation himself. "In order to accelerate the release of the product, we need to grow it on the spur of the moment, but if we rely only on U.S. seedling companies, mass production is not possible until five years later. I started raising it myself in October 2021."
But American soil was not easy. The first attempt, which began near Viktorville, Southern California, failed to bear fruit and went down the drain. Geumsil was also a breed that was difficult to raise due to its sensitive environment, but the moisture and amount of sunlight in this desert climate were too different from those in Korea, making it difficult to grow.
"I went to Korea nine times last year alone. I've been in self-quarantine nine times in a year. When I finished one of the cultivation steps, I went to a Korean pearl farm myself and learned the next step and came back and repeatedly applied it."
After moving the plantation to Oxnard, Southern California, and trying for more than a year to go to work before sunrise and return home, the gold thread eventually bore fruit. The gold thread, which was only 10 weeks, has grown to 4,000 shares in a year or so. In addition, the sugar content of Oxnard gold thread was 23.5 BRICS, which is twice the Korean average. Geumsil will soon be introduced to Koreans. H Mart has decided to purchase all gold thread in the future. Although it is a small amount, it will be on trial at the Buena Park branch of H Mart in the middle of this month.
I asked the meaning of the land to him, who has lived close to the land for the past two years.
"It's the basis of everything. The basics of life begin on the ground. There's no fluke to get anything off the ground. The lesson from the earth is that you have to stick to the basics and wait for the right time."
Dr. Moon will publish a series of processes in this magazine that achieve his dream of mass production of Korean strawberry "K-Berry."
Reporter Choi In Seong