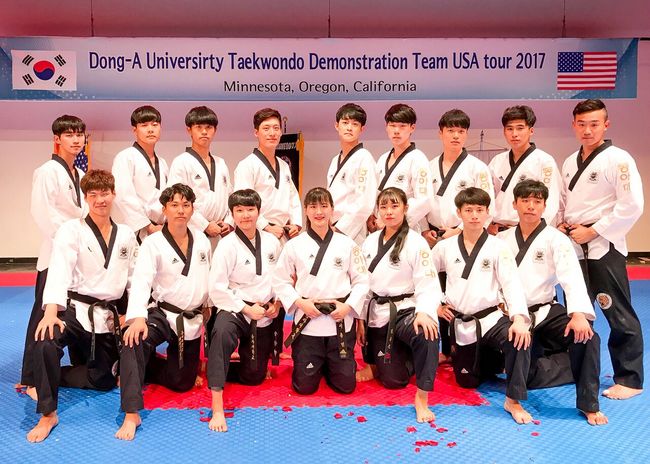 South Korea's prestigious collegiate taekwondo team from Dong-A University visited Los Angeles for the finale of their tour across the United States.
Invited by the Dong-A University's U.S.-based reunion group, the taekwondo team has already performed in Minnesota on July 30 and Oregon on Aug 5 before making the last stop in L.A. where they will showcase their skills for the final time on Aug. 13.
This marked the first time Dong-A University's 56-year-old taekwondo team visited L.A. A top level taekwondo performance is a rarity in the U.S., prompting an electric crowd reaction in every city they have visited. About 1,000 attended the Minnesota event, while the Oregon performance also drew approximately 800 people.
Notably, the leader of Dong-A University's team was Hyung-joo Ha, who won the gold medal in judo in L.A. at the 1984 Summer Olympics.
"Ha must have felt special to see his young colleagues perform in a city where he won the gold medal 33 years ago," said Seung-hyung Lee, the team's head coach. "It was an opportunity for him to reconnect with the Koreans in L.A."
The performance will be held on Aug. 13 at Woodbridge High School in Irvine at 3 p.m. The team consists of the current Dong-A University students. All 16 of them possess at least a fourth-degree black belt. The hour-long performance will display breaking, self-defense, and other high-level techniques. Traditional Korean music concert will be held during the break. Admission is $20 per person, but free for children aged 3 or younger.
Dong-A University is one of the schools in South Korea with the longest tradition with taekwondo. Having founded the taekwondo club in 1961, the official team was launched in 1966. Former Olympic gold medalists Je-kyoung Kim and Dae-sung Moon graduated from the school.
Starting this year, Dong-A University plans to send its taekwondo team annually.
▶Inquiry: (949)654-4411 Master Lee's Talium
By Koohyun Chung