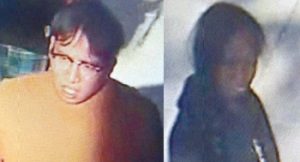 Police have released photos of two suspects involved in the shooting of a florist in Oakland's Koreatown neighborhood in Northern California.
The Oakland Police Department is currently seeking information regarding two suspects – a man and a woman – in connection with the shooting incident that took place at 6:30 p.m. on June 21 on 26th Street in Oakland's Koreatown.
"We urge the community to contact the police," stated an official from the Oakland Police Department. "We are offering a $10,000 reward for any information that leads to the arrest of the individuals involved."
In the meantime, it has been revealed that Matheus Gaidos, a 27-year-old flower delivery man who lost his life in the shooting, was a Brazilian national. He had arrived in the United States five years ago and had plans to return to Brazil in the near future.
If you have any information regarding this incident, please contact the Oakland Police Department at (510) 238-3821.
BY YEOL JANG [support@koreadaily.com]